Boiler installation: cost and companies
The energy plan tailored to your values exists.
And it is just one call away.
Our experts scour the market to guide you towards the energy deal custom fitted
to your needs and beliefs. Call us and let our experts switch you to for free.
Monday to Friday – 8.30 am to 5.30 pm
Switch Plan is rated 4.0/5 on Trustpilot
Ad
The energy plan tailored to your values exists.
And it is just one call away.
Our experts scour the market to guide you towards the energy deal custom fitted
to your needs and beliefs. Call us and let our experts switch you to for free.
Monday to Friday – 8.30 am to 5.30 pm
Switch Plan is rated 4.0/5 on Trustpilot
Ad
Your boiler provides heating to your whole home. For this reason, they can be quite pricey. Find out everything you need to know about the costs for installing your new boiler, or getting boiler cover.
Last update: June 2022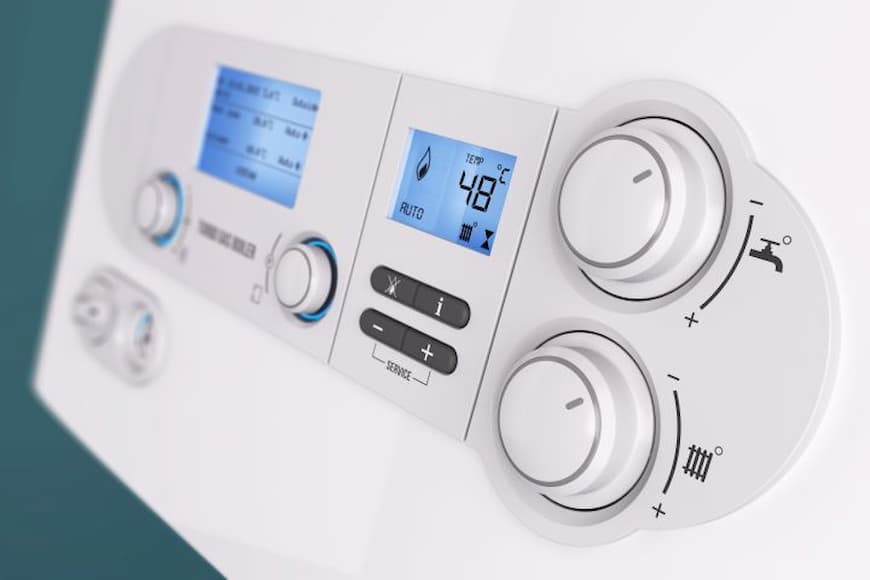 How much does it cost to install a boiler?
However, the price depends on lot's of things, such as:
The type of boiler you want to install.
The brand of the boiler you want to install.
The size of the boiler you want to install. This depends on the size of your house.
On average, a boiler can cost anywhere between £500 and £2,500. This is a pretty big price gap, so as you can imagine, there must be a big difference in the quality of boilers that exist on the market. The cost of boiler installation and maintenance is usually made up if you opt for an energy efficient boiler. So it might be worth opting for a more expensive boiler from the offset.
Can I install a boiler myself?
Definitely not. Not only is it illegal, it is also highly irresponsible if you're not a  qualified engineer or boiler technician. You could even face criminal charges if something goes wrong, such as a gas leak or an explosion.
If your boiler hasn't been installed properly, then it can release carbon monoxide. This is an odourless, colourless gas that is highly poisonous. Around 50 people in the UK die from carbon monoxide poisoning every year. It's better to just pay a bit more for installation, rather than put your life and your family's lives at risk.
We know that the installation costs of a boiler are hard-hitting, especially if you've splashed out on a better quality boiler. But really, don't install your new boiler yourself. Call a technician.
What types of boiler are there?
alt="Boiler installation" width="720″ height="480″ />The process of finding a boiler involves a number of difficult decisions. The main one is deciding which boiler is best for you and your household. There are three main types of boiler:
Heat-only boiler.
System boiler.
A combination or combi boiler is the most popular type of boiler system in the UK.
A combi boiler provides hot water whenever you want it, and works perfectly for a lot of homes.>
Combi boilers are compact and pretty efficient. However, they aren't great for bigger houses. This is because they only work for one thing at a time. For example, if someone is washing the dishes in the kitchen, someone else can't take a shower upstairs. So if there are a lot of inhabitants in your house, it might not be the best option.
However, they are definitely the most cost effective option.
A heat-only boiler (also known as conventional boilers) is pretty different from a combi boiler.
It has a classic on and off switch, meaning you can switch off hot water when you're not using it. This is pretty efficient so you don't waste money and energy on heating water that you're not using right away.
If you live in a bigger house with more people in it, then this is probably the best bet for you. Multiple people can use hot water at the same time.
However, this also means that you don't get hot water on demand. The water needs to heat up before you can use it. If you're patient, this is fine. But you will end up losing money and energy on heating the water every time you want a hot shower.
Finally, a system boiler is quite similar to a heat-only boiler, except it's much more compact.
Like the combi-boiler, all the external components are built into the main tank of the boiler, so it's all kept in one place.
If you have a large home, a system boiler could be good for you, as multiple people can use hot water at the same time.
On the other hand, system boilers can cost a bit more to install than other boiler types.
Also, they aren't quite as efficient as combi boilers, as you lose a bit of heat and energy every time you heat up the hot water tank.
How do I choose which boiler to install?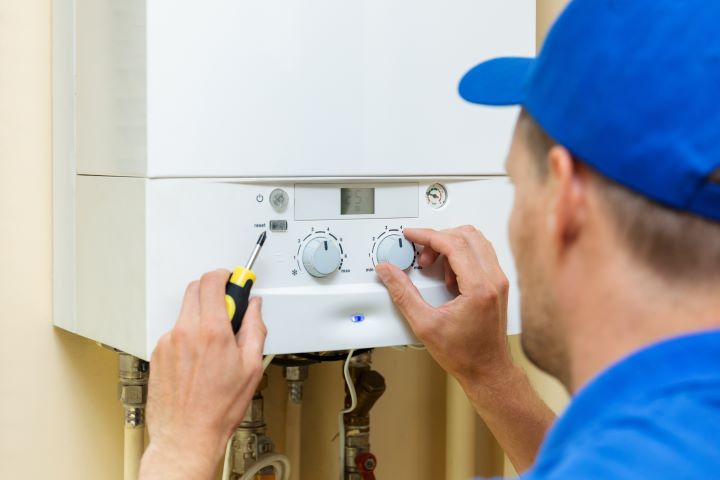 Now you know what types of boilers exist, you can make an educated decision based on your household's needs and energy requirements. If you have a bigger house, you should opt for a heat-only boiler or a system boiler.
If you are looking for a cheaper option, and don't mind about having to ration out hot water, a combi boiler is best for you.

Our energy experts are here to help
Free service - Available Monday to Friday from 8.30 am until 5.30 pm
What type of fuel do boilers use?
Different boilers are fuelled by different means: gas, electricity or oil.
Natural gas is the most popular fuel used to run a boiler. However, you can only have a gas boiler if your home is connected to the gas network. Alternatively, you might have a boiler fuelled by oil. Electricity boilers are becoming more popular nowadays, given they don't burn oil or gas. An electric boiler means that you don't waste energy heating up a boiler with gas or oil. They are typically more efficient.
What size boiler should I get?
The size of the boiler that is best for you depends on how much energy you typically use in your house. Domestic boilers have an output rating of anywhere between 24kWh and 42kWh. The former is better suited for homes with 1-2 bedrooms, whereas the latter is optimal for homes with 4 bedrooms or more.
Which brands make and sell boilers?
It's important to read reviews and ratings about boiler brands to find the most reliable and suitable boiler for you. The less reliable – and probably cheaper – the boiler brand, the more likely it is that you will have to get a repair in the first few years of your boiler plan.
It's generally considered that Worcester Bosch provides high quality, reliable boilers. They offer boilers of all fuel types and are the most popular and well-known.
In second place usually comes Viessmann Boilers, the largest boiler company in Europe. They are typically more durable and efficient than their competitors.
Other boiler brands to consider are:
Ideal Boilers
Vaillant
Baxi
Alpha Boilers
Potterton
There are more brands on the market, but these are certainly the most popular boiler brands in the UK.
How can I reduce my boiler costs?
Your heating costs are by the far the biggest energy cost in your house. This is especially true if you have a bigger home with more inhabitants. There are a number of ways to reduce your heating costs, however.
Firstly, make sure your boiler is working in the correct settings. There's no point in putting your boiler on the highest heating setting if it is summer time, for example. You can manually adjust your boiler settings when you notice changes in weather patterns, and this could save you a lot on your heating bill. Or, there are automatic adjustment products that you can invest in that will change the settings of your boiler automatically depending on the weather. This saves you time and money.
Are your radiators taking a long time to heat up? This is a huge waste of energy, and usually a sign that your water system is clogged up, or not clean enough. It's important to clean your water system regularly because it will make your heating system much more efficient, and also good for the lifeline of your boiler. You can flush out your system to clean it.
Make sure your boiler is condensing. This means that any heat that would usually be lost through your heating system is instead recovered by the system. To make sure your boiler is condensing, make sure the water that is being recovered isn't too hot. If you don't think your boiler is condensing properly, book in a service with a boiler technician and they can let you know.
Remember, the best way to keep your costs down is to ensure that you are on the best energy plan for your household's particular consumption. Check out how to switch here.
Read more articles about boiler cover:
Available Monday to Friday from 8.30 am until 5.30 pm
FAQ
How long do I have to wait until I can make a boiler cover claim?
This depends on the provider but the average is around 30 days before you can start filing claims under your boiler cover plan.
What is the limit I can claim on my boiler cover?
This will change depending on the provider so be sure to ask before you switch, many providers do in fact put limits on costs associated with claims.
Do I lose my boiler cover if I change my energy provider?
Nope! Your boiler cover is completely independent of your energy provider, so switching energy providers will not impact your boiler cover.
If When I move addresses does my boiler cover move with me?
It can, but this will require you to get into contact with your boiler cover provider in order to clarify your new address and the move itself.
Updated on 16 May, 2022