Best boiler cover in 2022
Looking for the best boiler cover on the market?
Call us and let our experts subscribe your house to the best boiler cover for free.
Monday to Friday – 8.30 am to 5.30 pm
Switch Plan is rated 4.0/5 on Trustpilot
Ad
Looking for the best boiler cover on the market?
Call us and let our experts subscribe your house to the best boiler cover for free.
Monday to Friday – 8.30 am to 5.30 pm
Switch Plan is rated 4.0/5 on Trustpilot
Ad
There's nothing worse than your boiler breaking down or finding that your radiators aren't working! Following up this surprise with hefty repair fees (including parts, call-outs and labour) can leave you with a large bill that you may not have anticipated. In the run-up to and during the post-Christmas period, an unexpected bill can really put a strain on family finances, which is why boiler cover and central heating cover is so important. Thinking about buying boiler cover? Well, look no further! In this article we will tell you all that you need to know.
Last update: June 2022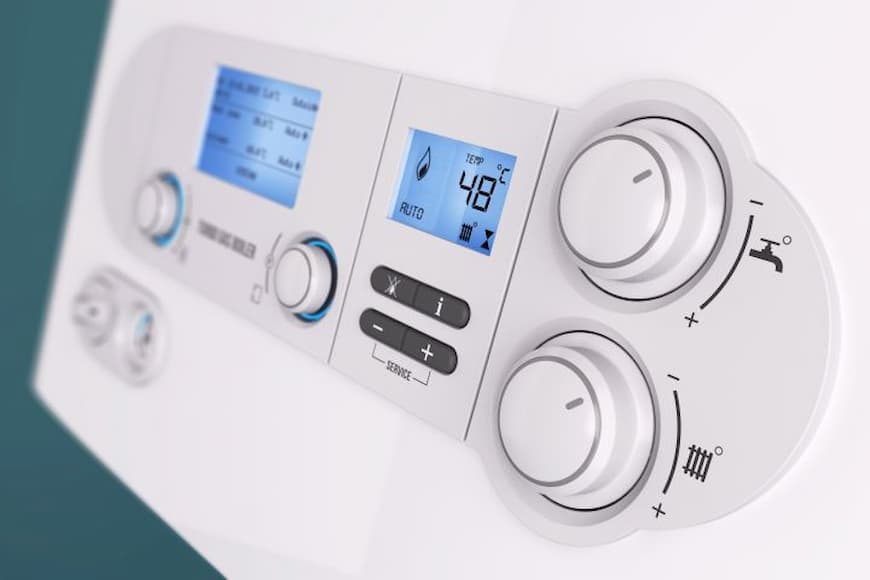 Generally, people like the peace of mind that boiler cover brings, with some policies also covering annual servicing and maintenance costs, which can be £60-£100 a time. Boiler cover ranges in cost depending on the level you need (more on this below), but generally can be found from as low as £3-£5 a month, and up to £20 a month for more comprehensive cover.
What is boiler cover?
Boiler cover is a type of insurance that you take out to cover your boiler if it breaks. It ensures that if you have issues with your boiler, that someone will come out and try and fix the problem quickly, saving you filling up the bathtub with the kettle or frantically searching for the blankets!
The most comprehensive boiler covers may also include:

Central heating repairs
Plumbing and drainage
Electrical cables and wiring
Pest infestations.
What different types of boiler cover are available?
Generally, there are two main types of boiler cover to choose from.
Cover for your boiler, its parts and controls
Cover for your whole heating or central heating system, including hot water.
As above, the more comprehensive boiler covers may also include cover for electrical cables and wiring and pest infestations.
The first type of plan will only cover your boiler itself, providing cover if it breaks down, or if the components or controls stop working. It varies between providers (so make sure to check!) but some boiler covers also include annual maintenance checks and servicing, and the cover itself will include call-out fees, parts and labour in the event of boiler break down.
The second type of cover includes not only all of the above for your boiler, but also covers the other parts of your core household heating system including radiators, pump and flue. Again, this will also cover all your call-out fees, parts and labour costs too, as well as annual maintenance, servicing and safety checks.
Is boiler cover and central heating cover the same thing?
While they may seem similar and they work together, boiler-cover and central heating cover are two separate things. Generally, comprehensive 'boiler cover' would also cover your central heating system: pipes, radiators and central heating pumps. But boiler-only cover is also available and is often a cheap option, which would only cover the boiler itself and its controls – not the central heating system. So be mindful when comparing options and pricing – boiler-only cover is cheaper but may not be as comprehensive a policy as you need.
However, with home emergency cover (which we talk more about later on), this generally covers boilers, central heating and emergencies – so it's worth checking the policy wording on any form of boiler cover before you buy to make sure that everything you want covered is covered.
What should I look for in boiler cover?
It's important that, whichever form of boiler cover you adopt, that it meets your needs – there is nothing worse than facing a boiler breakdown and realising your cover won't be sufficient to help! Below, we've put together a list of the things to check when looking for and comparing boiler cover:
Are there limits on the volume of annual claims and call-outs?
Is the age of your boiler factored in?
Is there a no-claims period attached to your policy?
Does it cover your central heating system, or just the boiler?
Are call-out fees, parts and labour included?
Is annual maintenance and servicing included in the policy?
How long does the policy last?
Is there an excess and, if so, how much is it?
Pros and cons of boiler cover
You might now be thinking about whether boiler cover is right for you and, if so, what level you would require for your household. Below, we've listed some of the pros and cons to having boiler cover.
Gives you peace of mind, particularly for the colder months
No large or surprise unexpected repair bills
They often include servicing and maintenance, keeping your boiler in tip-top condition year-round
Annual servicing means identifying problems before they break the boiler.
£20 monthly costs can add up to £240 a year
Can be expensive, sometimes equivalent to annual home insurance fees
There is usually an excess applied to claims
Depending on your level of cover, additional costs may be incurred in the event of a central heating breakdown or emergency
Self-insuring (saving money over the year) could be cheaper, which means if you don't claim, the money is yours!
What's the best boiler cover?
We've done some digging, and as of November 2020, here are some of the most cost-effective boiler covers.
Boiler Cover Provider
Monthly Fee
Length of Contract

price/kWh

Boiler Cover?

price/kWh

Electrical, Plumbing and Heating Cover?

price/day

British Gas

£2.50

12 months

Yes

No

EDF Energy

£4.90

12 months

Yes

No

24/7 Home Rescue

£7.47

30 Day Rolling

Yes

No

YOURREPAIR

£14

3 Year Fixed

Yes

Yes

EDF Energy

£14.33

12 months

Yes

Yes

Plus Heat

£15.90

12 months

Yes

Yes

HomeTree

£19.95

12 months

Yes

Yes
Is boiler cover worth getting?
If your boiler and central heating system isn't covered by your home insurance policy, getting boiler cover will be a cost-effective way of planning for any unexpected repairs or emergencies, as well as annual maintenance.
However, self-insuring is another option – by saving the equivalent of a boiler cover fee throughout the year, you may have enough to cover your annual boiler costs and unexpected bills by yourself. Meaning if your boiler doesn't break down, you keep the money, rather than giving it to your insurer! Saving this money in a savings account will also give you interest, but bear in mind that you might not be able to get help in an emergency as quickly as you would normally with a registered boiler cover provider – this can be quite stressful!
What's home emergency cover?
Often, your home insurance policy (or your landlord's home insurance policy if you rent) may cover home emergencies, although this is usually at an additional cost to your main policy which covers damage to your home and belongings.
Home emergency cover is treated as separate to home insurance so, if you claim on your home emergency, you won't use your no-claims bonus for your main home insurance policy. If you're a landlord, you will need to use specialised landlord insurance to cover your property or properties, instead of standard home emergency cover.
Types of home emergency cover
Home emergency cover will protect you against (some or all of) the following emergency events:
Plumbing, gas or electricity failure
Boiler, central heating or hot water failure
Damaged doors or locks
Damaged windows or window locks
Burst or leaking pipes and water damage
Pest infestations such as brown rates, field mice or wasp nests
Sudden roof damage, due to bad weather or a storm
It usually comes as an add-on to your home insurance policy at an extra cost, but will cover any incident that impacts your health, your home security or that puts you and your family (and pets!) at risk of damage. Generally, home emergency cover providers have a 24-hour helpline, access to approved and specialist engineers and will cover (all or most of) the cost of the parts and labour involved.
Remember that home emergency cover is designed to make your home safe, covering urgent repairs and labour costs, and doesn't always repair the damage to other areas in your home caused by the emergency.
Is boiler breakdown covered by home insurance?
Make sure to check your home insurance policy if you're considering taking out boiler cover or central heating cover. Your core home insurance policy is very unlikely to cover home emergencies, but additional home emergency cover would do, so it's best to check with your provider.
Our energy experts are here to help
Free service - Available Monday to Friday from 8.30 am until 5.30 pm
It's also really important to check the terms and conditions of your home emergency insurance, as some of the small print may mean that older boilers (7+ years) or older models of boilers won't be covered as standard. Home emergency cover generally states that your home must be "maintained to a good standard", so if you're not regularly maintaining your boiler, this may not be covered either – and, the worst time to find this out is at the height of a boiler or heating emergency.
Who offers the best home emergency cover?
As home emergency cover is an add-on to home insurance, it's difficult to outline the best providers and costs, as this varies a lot. Home emergency cover as a part of home insurance also isn't necessarily provided by the home insurance supplier, so it can be tricky to compare costs – especially as insurance costs vary wildly based on the circumstances of your household such as:
Your postcode and local area
Local crime rates
The materials your house has been built with
The types of locks on your windows and doors
How many bedrooms, pets and people are living in your home
Your history of home insurance claims.
What we would suggest is shopping around, as with all insurances. Be mindful as well of home emergency cover that comes from third-parties, as these aren't always regulated by the Financial Conduct Authority (FCA).
Would you like to know more about boiler cover? Great! Check out some of these related articles
Available Monday to Friday from 8.30 am until 5.30 pm
FAQ
How long do boilers last?
Most boilers can now be relied on for around 10 to 15 years. However, at the 15 years or so mark, they might still work, but can become inefficient and cause your heating and energy costs to rise to keep your home temperature controlled. Often at this point, it's more cost-effective to buy a brand new one to replace the old version.
Don't forget that you can increase the lifespan of your boiler with regular servicing and maintenance - often, cleaning or replacing an older part or component can add new life to your boiler! As they're very expensive to replace, regular maintenance and servicing can be a big cost saver.
What if my insurer goes bust?
If your boiler cover is an insurance company, they'll be regulated by the Financial Conduct Authority (FCA) which will give you a certain level of protection. In the event of your insurer going bust, The Financial Services Compensation Scheme (FSCS) will usually step in to help you find another provider and to provide compensation.
How long does boiler cover last?
Normally boiler cover is similar to your home or contents insurance policy, and it depends whether you get it through your energy supplier or not. Generally, your cover will last a year and you can pay monthly or annually. Good boiler cover will cover inspections, repairs and replacement parts as necessary throughout the period that you're insured.
Do I need home emergency cover?
While home emergency isn't essential or a legal requirement, it can give you peace of mind in the event of unforeseeable emergencies such as a burst water pipe, a broken boiler or a sudden weather-related damage to your home. As an add-on to your home insurance policy, home emergency cover won't affect your no-claims bonus, and usually costs between £4-£20 a month or £48-£240 annually on top of your home insurance costs.
Updated on 18 May, 2022