Landlord energy tips: setting up utilities in your rental
Powering up your home has never been so easy
Let us set up your energy supply with the best supplier in 10 minutes.
Monday to Friday – 8.30 am to 5.30 pm
Powering up your home has never been so easy
Let us set up your energy supply with the best supplier in 10 minutes.
Monday to Friday – 8.30 am to 5.30 pm
As any veteran landlord will tell you, there's no such thing as passive income! A landlord has to always be on duty, and their commitments to their tenants don't end when you clock out at 5:30, as they may for your day-job. When you put your investment property on the rental market, you implicitly commit to a range of legal, compliance, moral and ethical considerations. Chief among which is the commitment to keeping the property safe and comfortable for those who live within. And with these landlords energy tips, you can help to ensure that the property is safe, cosy and warm without guzzling energy.
Last updated: April 2022
It goes without saying that your tenants will have energy needs. And as well as ensuring that your electrical infrastructure passes muster, it also helps to use these landlords energy tips to keep your property energy efficient. Some landlords fold the cost of utilities into their tenant's rent. Some state in the tenancy agreement that the tenant is accountable for all energy costs from when they first move in. But waters can become muddied for landlords who provide HMO accommodation or student housing. Here we'll look at what you, as a landlord, need to know about your tenants' energy, as well as providing some energy saving tips to help you keep costs low.
What are your main energy considerations as a landlord?
Even if your tenants will be paying for their own energy use, a landlord still has a number of energy considerations. After all, nobody wants their investment property to sit empty for long periods of time. A warm, cosy and energy-efficient home is more appealing to prospective tenants, as is a property where they know they will be fairly charged for their energy usage.
Here we'll look at some of the key energy considerations for landlord…
How will the tenant pay for the property's energy?
You have 3 options:
Fold the cost of your tenants' energy bills into their rent (based on historical average usage).
Manage the energy on the tenant's behalf, and they pay the bills directly to you.
Allow your tenants to manage their own energy, paying the suppliers directly.
This needs to be made crystal clear in your tenancy agreement. Otherwise you risk opening yourself up to disputes that could turn ugly.
Ultimate responsibility for energy costs lies with the person whose name is on the bill. And if you choose either of the first two options, that person is you!
How are energy costs managed across multiple tenants?
HMO (house in multiple occupation) landlords and student accommodation landlords face further complications. If tenants rent a room in a house or unit rather than a flat or apartment, you'll want to ensure that tenants pay only for their use, rather than that of those with whom they share the property. This means it's up to you to figure out how to charge each tenant a rate that's fair and proportionate to their consumption.
Tenants have a legal right to see these calculations, so you'll need to keep them up to date and accessible to the tenant.
Ofgem has a useful guide to make this easier. Click here to download the PDF.
You may want to have a say in which of the UK's 50-plus energy suppliers provides the electricity and (where appropriate) gas for your property. If you already have a relationship with a supplier that you want to maintain, you may want to put a clause in the contract prohibiting them from switching. Or, at the very least, ensuring that they ask your permission before switching.
Should you install a prepayment meter or a credit meter?
Every landlord fears that their tenant will rack up enormous bills in their name before disappearing into the aether without a trace. Some landlords find that installing a prepayment meter to replace their conventional credit meter is a useful way of ensuring that tenants can't run up huge bills. That said, however, billing anomalies do sometimes happen, even with prepayment meters. Just ask this E.ON customer who woke up to a £19,000 electricity bill despite being on a prepayment meter.
Prepayment meters have their pros and cons, so you should think long and hard before choosing which type of meter to install. Take a look at the table below to compare:
| Prepayment Meter Pros | Prepayment Meter Cons |
| --- | --- |
| Meters have a usage cap, so tenants can't run up huge bills. | Unit rates tend to be more expensive per kWh. |
| Billing inaccuracies are much less likely. | Landlords have fewer tariffs to choose from. |
| Some tenants find it easier to top up than send meter readings. | A lot of prepayment tariffs are close to the prepayment energy price cap. |
| Tenants only ever pay for what they use. | Responsibility and usage can get complicated in shared housing. |
| ITenants feel in control of their usage. | Running out of credit could mean a loss of service. |
If you choose to add a prepayment meter, you should also put a clause in the contract stating that the tenant cannot replace it with a credit meter without your permission.
What are your safety obligations as a landlord?
As well as considering their tenants' energy usage, landlords also need to pay close attention to the safety of their investment property. Gas and electricity can be extremely dangerous, and landlords have a legal obligation to ensure that the property is safe for tenants to use.
This includes…
Ensuring that an Electrical Installation Condition Report (EICR) is carried out every 5 years.
Ensuring that gas equipment is safely installed by a Gas Safe registered engineer.
Ensuring that gas equipment is well maintained (e.g. boiler servicing).
Sockets and light fittings are visually inspected regularly.
Tenants are given copies of EICR certificates and gas safety check certificates (within 28 days of the check).
Fire alarms and extinguishers are provided in MHO accommodation.
Tenants know what to do if they smell gas.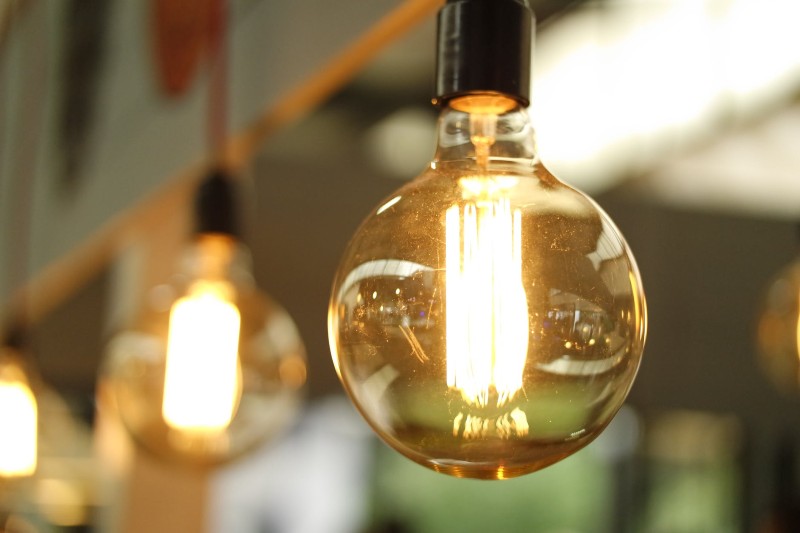 No matter whose name is on the bill, it's in everyone's best interests to ensure that the property is as energy-efficient as possible. What's more, landlords are also legally obliged to ensure that any rental property has an EPC rating of "E" or above.
With that in mind, here are some ways in which landlords can keep energy costs manageable:
Replace all incandescent bulbs with energy-efficient CFL or LED lights.
Consider replacing windows, even if they're double glazed, with more energy-efficient alternatives and resealing window cavities.
Improve draft-proofing, especially around exterior doors.
Replace your boiler if it is more than 12 years old.
Use a radiator fluid additive or booster to ensure that they are optimally heat efficient.
Consider replacing or upgrading your loft insulation.
Consider adding cavity wall insulation to reduce heating costs.
Upgrade heating controls to give tenants more control over their heating.
While some of these suggestions involve a degree of investment on your part, they will pay for themselves in a number of ways. As well as reducing energy costs, they also add to the resale value of your property and minimise the risk of water damage from condensation. Not to mention creating an environment that's more pleasant and less likely to remain unoccupied while you try to entice reluctant tenants.
Our energy experts are here to help
Free service - Available Monday to Friday from 8.30 am until 5.30 pm
What's more, there are government initiatives that could help offset some of the upfront costs associated with upgrading your property.
Financial support for landlords
There are a number of schemes to which landlords can apply if they want to make improvements to their properties to make them more energy efficient.
These include…
The Green Deal
The Green Deal is can help to offset the cost of making your home more energy-efficient and therefore greener. It applies to a number of household renovations, including:
Solar heating systems or ground source heat pumps
Cavity wall or loft insulation
Draught-proofing
Adding or replacing double glazing
Generating renewable off-grid energy, such as solar panels or domestic wind turbines.
You can find out more about the Green Deal here.
Feed in Tariffs and Smart Export Guarantees
If your property produces off-grid energy that's surplus to your tenant's requirements, you may be able to make money by feeding unused energy back into the National Grid. Many energy suppliers offer Feed in Tariffs, however, these have been discontinued for new applicants. But don't worry! They've been replaced by Smart Export Guarantees, which have similar terms and rates. Rates vary, however, depending on your energy supplier.
Click Here to find out more.
Domestic Renewable Heat Incentive (RHI)
Investing in renewable heating for your property (like a solar heating system or ground source heat pump, could see you benefit from quarterly payments over a seven year period to help offset the cost of installation.
The amount you get depends on the type of technology you install, and the according tariffs that are available.
Read more on this scheme on Ofgem's website.
Energy Company Obligation (ECO)
Aimed at lower-income and vulnerable households, this government scheme is designed to help combat fuel poverty. If you provide housing to someone who is financially vulnerable, this scheme could help with the installation of energy-efficiency measures that are not covered by the Green Deal, such as a new boiler.
Find out more at Ofgem's website.
Enhanced Capital Allowance (ECA)
Finally, if you own a large portfolio of properties and / or pay corporation tax, you could claim 100% of your tax back by investing in any eligible energy saving technologies.
Find out more at the Gov.uk website.
Energy savings start with the right tariff. That's where we come in!
Whatever investments you make in an energy-efficient property, and whatever kind of meter you choose to install, your choice in supplier and tariff can make all the difference. But as a busy landlord, you may not have time to scour the market for the best tariffs to meet your tenants' needs.
The good news is that we're here to help!
We can scour the market for the best rates for your investment property and your tenants' usage. We can also manage your switch from end-to-end to ensure that you get the best value tariffs, hassle free!
Sound good?
Available Monday to Friday from 8.30 am until 5.30 pm
To read more on this topic, check out these guides:
FAQ
What is the best way to manage your tenants' energy?
There are a number of ways in which you can do this from the contract upwards. Ensuring that liability for energy use is clearly established, installing the right meter and, of course, choosing the right tariff can all help to make tenants' energy more manageable. As can making a few modest investments in a more energy-efficient property.
Should I install a prepayment meter in my property?
It's worth considering. Prepayment meters ensure that tenants only pay for the energy they use on a Pay As You Go basis. Many tenants find this easier to manage. However, they (or you) may end up paying more per kWh than on a standard credit meter.
How energy efficient does my rental property need to be?
As a landlord, you have a legal responsibility to ensure that your rental property has an energy efficiency rating (EPC) of "E" or above.
Are there government energy grants and incentives for landlords?
There are a number of government grants and incentives that might help to offset the cost of any investments you make in a more energy-efficient property. These include:
The Green Deal
Domestic Renewable Heat Incentive (RHI)
Feed in Tariffs (FiTs) and Smart Export Guarantees (SEGs) managed by your energy supplier.
Energy Company Obligation (ECO)
Enhanced Capital Allowance (ECA)
Updated on 12 May, 2022