Energy Saving Light Bulbs: Efficiency & cost
Are you ready to make the switch?
Switching energy suppliers has never been easier. Simply let our experts cater to all
of your gas and electricity needs.
Switching from incandescent to energy saving light bulbs is one of the easiest ways to cut your electricity bills and reduce your carbon footprint. More efficient and more durable than traditional lights, energy saving bulbs will help to make your home that little bit greener. Read more about this energy efficient appliance in this article.
Last update: November 2022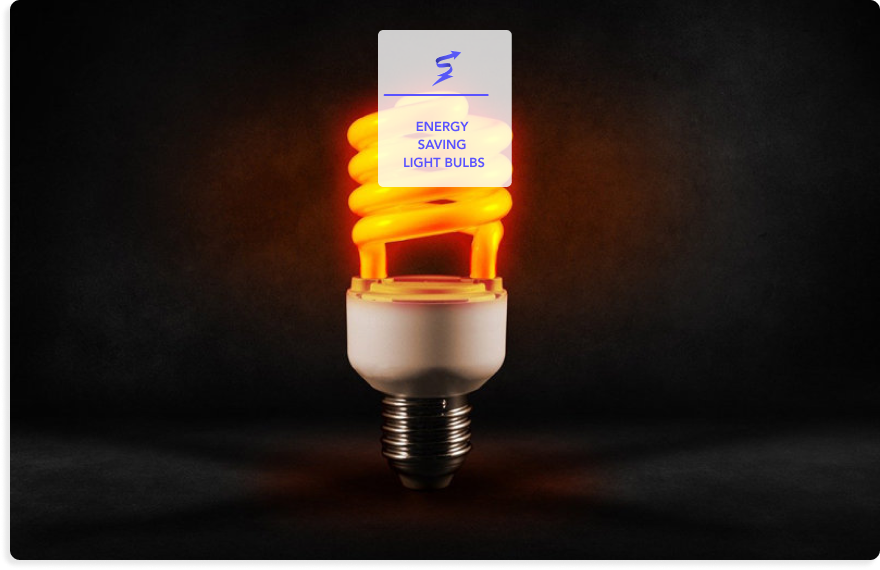 Could switching to energy saving light bulbs save you money?
Energy saving bulbs consume just 15-25% of the electricity required by standard bulbs. What's more, energy saving light bulbs last 3 to 25 times longer than traditional lights. They are available in a wide variety of styles and colours. This makes it easy to find the right bulb for your home.
In order to get the most from your energy saving bulbs, you need to find the right products for your needs. Take a look at our guide to learn everything you need to know about energy efficient lights and find the right bulbs for your home.
Why switch to energy saving light bulbs?
Did you know?

Energy saving light bulbs use up to 90% less energy than standard incandescent bulbs. Not only will this save you a considerable amount on your home energy bills, it's also a lot better for the environment


Standard incandescent lights are being phased out across Europe. This means that soon all the lights in your home will be energy saving. Switching your bulbs to energy saving LEDs or CFLs now will help to cut your energy bills and reduce your home's carbon footprint.
Energy saving light bulbs: LEDs or CFLs
The two most common types of energy saving light bulbs are Light Emitting Diodes (LEDs) and Compact Fluorescent Lamps (CFLs). CFL bulbs are easy to spot as their coiled glass tubes are very distinctive. LEDs look more like standard incandescent bulbs.
If you're not sure which type of energy saving bulb to choose, these are the main things to consider before you buy.
Cost – In general CFLs are cheaper to buy than LEDs. However, LEDs use less energy and so have lower running costs.
Lifespan – Many LED bulbs can last up to 25,000 hours. CFLs on the other hand have an average lifespan of 8,000 hours.
Light – CFL bulbs take a while to warm up when they're switched on. This can result in the room being a little dim for a few seconds until the bulbs get to full power. LEDs on the other hand, come on instantly.
Energy saving light bulbs vs. incandescent lights
Good quality light bulbs use around 90% less energy than standard incandescent bulbs. Over the course of a year, the average LED light bulb will cost £3.60 to run. That's more than £20 cheaper than a standard incandescent bulb, which has an average annual cost of £23.88.

Want to switch energy suppliers? Switching with us has never been simpler.

Free Service

Let Switch Plan help you with your electricity and gas needs.


If you regularly use 10 lamps and lights in the evening, this means you could save around £200 a year by switching to LEDs.

When switching to energy saving bulbs, it can be useful to see a direct comparison between LEDs and incandescent lights. Here, we take a look at some of the key differences between the two.
| Bulb | LED | Incandescent |
| --- | --- | --- |
| Watts | 10W | 60W |
| Lifespan | 25,000+ hours | Up to 2,000 hours |
| Initial Cost | £2-£15 | £2-£6 |
| Average Annual Running Cost | £3.60 | £23.88 |
| Carbon Emissions | 28.8 kg | 172.68 kg |
Choosing the right energy saving light bulbs for your home
Over the past few years, the variety of energy saving bulbs on the market has increased dramatically. It's now possible to find bulbs in a range of shapes and colours and with a good choice of fittings. Finding the right bulb will ensure that you're able to properly light your home.
Fitting
Different lights have different fittings. While one lamp in your home might have a large bayonet fitting, another might require a small Edison screw. You'll need to check exactly which fitting you need before you buy, otherwise your new bulb might not fit.
In the UK, the four most common fittings are:
When 'B' comes before the number, it stands for bayonet fitting. When it's an 'E', it stands for Edison Screw. Both incandescent and energy saving bulbs use the same codes. Checking your old bulb before you buy a new one will ensure your new light fits perfectly.
Shape
The shape of your energy saving bulb will determine how it emits light. Some lamps and light fittings may also require a certain shape to fit their design. It's generally a good idea to choose a bulb that's the same shape as the one you're replacing. As the light emitted from energy saving bulbs is directional, you'll also want to check that your chosen bulb illuminates the right spot.
Brightness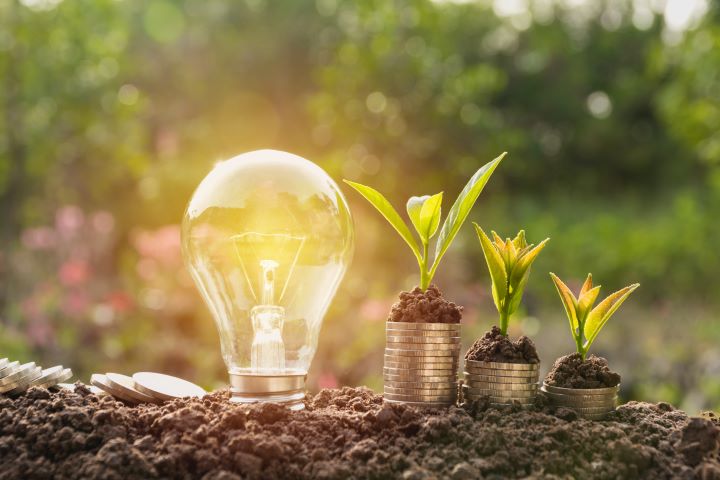 The brightness of energy efficient lights is measured in lumens (LM). When buying an energy saving light bulb, checking the lumen value will help you work out how bright your new bulb will be.
A 10W LED bulb is the equivalent of a 60W standard bulb. A 10W LED bulb has a lumen value of around 700. A bulb with a lumen value of 1300 or more will be brighter than a 100W standard bulb and a lumen value of 220 is roughly equivalent to a 25W standard light bulb or a 4W LED. You can find out more about lumen values here).
Warmth
The temperature, or colour, of light is measured using the Kelvin scale. Warm, orange light has a low number of Kelvin while cold or white light has a high number.
If you want to make your home feel welcoming, it's a good idea to choose an energy saving light bulb that emits warm light. Standard incandescent bulbs have a Kelvin measurement of around 2,700K. Choosing an energy saving bulb with a similar rating will give you a slightly yellow light, ideal for cosy interiors.
If you need clear, white light, choose a bulb with a higher Kelvin measurement. Daylight is around 5,500K. Choosing bulbs that emit this type of light will give you a clear, bright feel in your home.
Read more about different energy efficient appliances:
Looking to switch energy deals?
Leave your phone number to request a call back from us!
Find out more
FAQ
How much money will energy saving light bulbs save me?
The exact amount you'll save will depend on how many light bulbs you have and how long you leave them on for. According to a 2014 study, a home that uses 10 light bulbs for 10 hours a day can save around £240 per year by switching to energy saving light bulbs.
The more lights you have in your home, and the more you use them, the higher your savings will be.
Where can I buy energy saving light bulbs?
Energy saving light bulbs are available in all major supermarkets, online and in local hardware shops. It's always best to get your energy saving light bulbs from a trusted supplier as good quality bulbs will last even longer.
⏳ How long will my energy saving light bulbs last?
Energy saving light bulbs last up to 25,000 hours. If you only have your lights on for an hour or two in the evening, your bulbs could last for decades.
How long until my energy efficient light bulbs pay for themselves?
Again, this will depend on how often you use your new bulbs. On average it will take around 1.3 years for your energy efficient bulbs to begin paying for themselves. As prices continue to drop, these savings could come much sooner.
Updated on 10 Nov, 2022