Fight "Greenwashing" by choosing the Best Green Energy Tariff
Are you ready for a Green New Deal? We are!
Our commitment to green energy is matched only by that of the suppliers we compare. Choose and switch to the one that best fits your needs here.
More info
Learn more about our newest green deals
Are you wondering if green energy tariffs are more expensive than traditional energy? Good question. In this article, we will be able to break it all down for you. Green energy, also known as renewable energy, is generated from sources that naturally replenish themselves. This means that, unlike fossil fuels and nuclear energy, they won't be exhausted by human activity and should carry on providing electricity indefinitely. So, how can you switch to a green energy tariff?
Last update: November 2022
Green energy tariffs are offered by companies that generate electricity from renewable sources. These tariffs are offered by a number of suppliers in the UK. They give households the chance to reduce their carbon footprint, encourage the use of renewables and do their bit for the environment.
If you're looking for a way to boost the eco credentials of your property, you may well be considering a switch to a green energy tariff. Comparing suppliers and tariffs will help you find the best deal and discover the right green energy tariff for your home.
What is a green energy tariff?
A green energy tariff is an energy plan that promotes the generation of renewable energy. If you sign up to a green energy tariff, up to 100% of your electricity can come from renewable sources. This can help you to minimise your impact on the environment.
Green energy sources include:
Solar energy
Wind energy
Hydro Energy
Tidal Energy
Geothermal energy
Biomass energy
Green energy tariffs are available from a number of suppliers. Some suppliers are specialist green energy providers while others offer a choice of green and 'brown' fuel options. Brown fuel includes a range of non-renewables like coal, natural gas and nuclear.
Suppliers that offer green energy tariffs have to be upfront about their mix of fuel. So when you sign up for a green energy tariff, you'll be able to see how much of the energy you use will be derived from renewable sources.
Having a hard time finding a green energy tariff that suits your needs? Well, we can help you out with that! At Switch plan, we will search the market for you so that you get the best deal possible. All you need to do is give them a call at the number on the top of the screen.
How do green energy tariffs work?
There are two main types of green energy tariff. The most common is the supply tariff. Green supply tariffs are when suppliers match your energy usage by putting an equivalent amount of renewable energy into the National Grid.
The energy that actually makes it to your home is unlikely to come from entirely renewable sources. All energy generated in the UK is mixed together in the National Grid. It's then transferred to homes around the country.

Looking to switch to green energy suppliers?

Free Service

Choose the best one that best fits your needs with Switch Plan.


This system means it's impossible to ensure the energy you use is from renewable sources. However, by selecting a green energy supply tariff, you'll still help boost the amount of renewable energy in the grid as your supplier will put in what you take out and the energy they put in will come from renewable sources.

Another option is to have a fund tariff. If you have a green fund tariff, the energy you use won't be from renewable sources. Instead, you'll pay a premium to your supplier and this will be donated to support renewable energy projects. These projects might include tree-planting programmes and other carbon-reduction initiatives.
Who is the cheapest green energy supplier?
If you want to have an overview how a green tariff can look like, we provide tariff information below. You can find the offers for customers that do not want to compromise on sustainability! These are a summary of the cheapest green energy tariffs available in the UK right now.
Cheapest Green Tariff
Supplier ™️
Tariff 🏷️
Tariff info 📋
Electricity costs💰
Gas costs 💰
/
Availability: ❌
Green - Fixed 12
Green elec: ✔️
£ 535.26
£ -
/
Availability: ❌
Standard Variable
Green elec: ✔️
£ 867.62
£ 2,190.74
/
Availability: ❌
Green - Fixed 24
✔️
£ 894.68
£ 2,190.74
Prices vary from one city to another, so we display national averages
Based on the official TDCV : 2,900.00 kWh of ⚡ and 12,000.00 kWh of 🔥 per year
A Green tariff means the supplier injects in the grid the same amount of renewable energy that is consumed.
How much green energy is generated in the UK?
Over the past few years, the UK has significantly increased the amount of energy produced from renewables. Various energy companies and government initiatives have put money into developing green energy infrastructure and every year, a little more of our electricity comes from sustainable sources.
This comparison shows just how far we came in the seven years between 2011 and 2018.
| | 2011 | 2018 |
| --- | --- | --- |
| Gas | 40% | 39% |
| Coal | 30% | 5% |
| Nuclear | 19% | 19% |
| Renewables | 4% | 33% |
Currently, around a third of the UK's energy comes from renewables. Of this, 13.8% comes from wind, 10.2% from bioenergy, 4.2% from solar and 1.8% from hydropower. Of the countries that make up the UK, Scotland produces the most renewable energy with 42.9% coming from green sources. Wales draws just 12.33% of its energy from renewables, putting it bottom of the UK league table.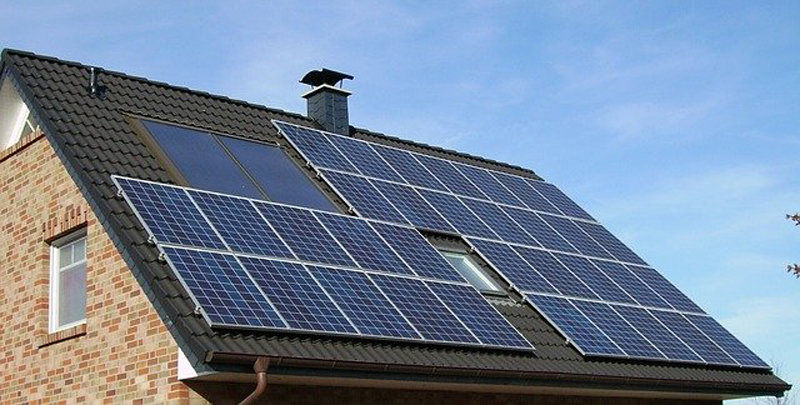 Are green energy tariffs cheaper than standard tariffs?
As renewable energy comes from free sources, a lot of people think that green energy tariffs are a cheaper option. However, in general, green energy tariffs are slightly more expensive than standard tariffs. This is because renewables still make up a relatively small percentage of UK energy supplies and so the cost of generating each unit of energy is higher.
What's more, renewable energy infrastructure is still being developed and a lot of companies are investing heavily in future projects. This all drives up the cost of renewable energy tariffs.
However, as green energy tariffs become more popular, the cost of these environmentally friendly deals is dropping. It's now possible to find green energy tariffs that are comparable with standard tariffs from major energy suppliers.
Why should I choose a green energy tariff?
A lot of people choose their energy tariff based on the affordability of the deal they're offered. So you may wonder why you'd opt for a tariff that's more expensive than others on the market.
The main reason people choose a green energy tariff is that they want to reduce their carbon footprint. As more and more people become conscious of their personal impact on the environment, making greener choices is becoming more common.
The growing popularity of green energy tariffs shows energy companies that there is a real appetite for renewables. It also proves that Brits care about the environment and are willing to pay a premium to help reduce their carbon footprint.
Who is the best green energy supplier?
A large number of UK energy companies now offer green energy tariffs. These include:
British Gas
Npower
Scottish Power
SSE
Bulb
Octopus Energy
Green Energy UK
Outfox the Market
Ecotricity
Ovo Energy
Many of these companies offer 100% green energy tariffs. Some, like Ovo Energy, Ecotricity, Green Energy UK and Bulb offer green gas as well. Investing in a tariff that also offers green gas – generally produced from food and farm waste – is a good option for households that want to be as environmentally friendly as possible.
There are a number of different factors to consider when comparing green energy providers and green energy tariffs:
One of the most important is the cost of the deal. There's a big variation in price, even among green energy tariffs, so it's essential to compare costs before you sign on the dotted line.
It's also a good idea to check the fuel mix on offer. Companies that offer green energy tariffs have to publish the mix of fuel they use, so it should be easy to find out how much of their energy actually comes from green sources. This is important because some energy suppliers simply buy up Renewable Energy Guarantees of Origin (REGO) certificates from renewable energy supplies without buying the energy itself. One REGO certificate is issued by Ofgem for every megawatt hour (MWh) of eligible renewable output generated. This means that, while the supplier can legally offer 100% green energy tariffs, they're not actually putting any renewable energy into the grid.
Many of the most ethical green energy suppliers are niche, eco companies like Bulb, Octopus Energy and Green Energy UK. These suppliers have strong green credentials and invest in the development of renewable energy sources.
Green gas
Most green energy tariffs offer electricity generated from renewable sources. However, few offer green gas. Green gas is harvested from farm and food waste. It's more difficult to produce on a mass scale compared to natural gas and so it's harder to find deals that include an eco-friendly supply.
If green gas is important to you, there are some suppliers out there that offer 100% green gas tariffs. Others offset their use of natural gas by supporting carbon reduction projects around the world. This can result in the company becoming carbon neutral. Choosing a company that offers either green gas or an offset tariff will help to keep your carbon footprint as low as possible.
Feed-in tariffs
A feed-in tariff is another version of a green energy tariff. A lot of green energy suppliers will offer feed-in tariffs as part of their renewable packages. Feed-in tariffs give homeowners the chance to make money by generating their own electricity.
If you have solar panels, a wind turbine or any other type of energy-producing installation, you can feed the electricity it produces back into the grid. Your energy supplier will then pay you for this electricity. Feed-in tariffs can provide homeowners with free energy and give them a small income as well. If you have the space for solar panels or another renewable energy producing system, a feed-in tariff could be a great option.
Read More:
Looking for a greener energy deal?
Leave your phone number to request a call back from us!
Find out more
FAQ
Who is the cheapest green energy supplier?
The cost of green energy tariffs can vary a lot. Suppliers often put their prices up and down to reflect the availability of renewable energy and to cope with changing industry costs.
The best way to find the cheapest green energy supplier is to compare available green energy tariffs using a trusted comparison site. This will show you what's on the market right now and help you choose the right supplier for your needs.
Are 100% renewable energy tariffs available?
A large number of big and small energy suppliers offer 100% renewable energy tariffs. However, if having a 100% renewable tariff is important to you, make sure you check exactly how your chosen supplier produces or acquires their energy. If they're just buying up REGO certificates without buying any green energy, your 100% renewable tariff won't actually use any green energy. You may have a more positive impact on the environment by looking elsewhere.
Does buying green energy make a difference?
Buying green energy definitely makes a difference. As more people opt for green energy tariffs, it shows energy companies that the demand is there and encourages them to invest in renewable energy sources. If everyone signed up to green energy tariffs, there would be a lot more money to invest in renewable and sustainable sources of energy.
Is green electricity really green?
Even if the energy company you choose produces or acquires energy from genuine green sources, there will still be a toll on the environment. All types of energy infrastructure, whether they're solar, hydro, wind, coal or nuclear, require energy, materials and man power to construct and maintain. This all adds to the carbon footprint of your energy.
However, once in place, renewable energy installations are a lot more environmentally friendly than other types of energy generation. This makes them the greenest option available.
Updated on 10 Nov, 2022