EDF business tariffs: the right energy for your business?

Looking to switch over to an EDF business tariff?
Let our experts advise you on the best offers on the market!
Monday to Friday – 9am to 7pm
papernest disclaims that they are not in partnership with EDF

Looking to switch over to an EDF business tariff?
Let our experts advise you on the best offers on the market!
Monday to Friday – 9am to 7pm
papernest disclaims that they are not in partnership with EDF
But while you may gravitate towards a supplier that's well known, how can you be sure that EDF Business Tariffs are the right fit for your business? Even if you already have EDF Energy as your domestic supplier, that doesn't necessarily mean that they're the right fit for your business. Here we'll look at how EDF Business Tariffs perform in all the ways that matter to you and your enterprise.
Last updated: March 2021
Choosing the right energy supplier is an extremely important consideration for your business utilities. And there are a number of things to keep in mind when selecting the best business energy supplier for your needs. Of course, cost is one of the most important considerations. No business can afford to pay over the odds for the energy they use, and overspending on energy can place serious restrictions on your cash flow. But businesses also need to consider the renewability of their supplier's energy mix. Especially in an age where sustainability matters more than ever for your customers. EDF business tariffs could bring you affordable prices and the support you need from a familiar brand.
Does EDF do Business Energy?
Yes. EDF Business encompasses a modest range of tariffs for business customers. From small to enterprise-level business, they have the capability to power businesses of all kinds, whether your business uses electricity exclusively, or both electricity and gas.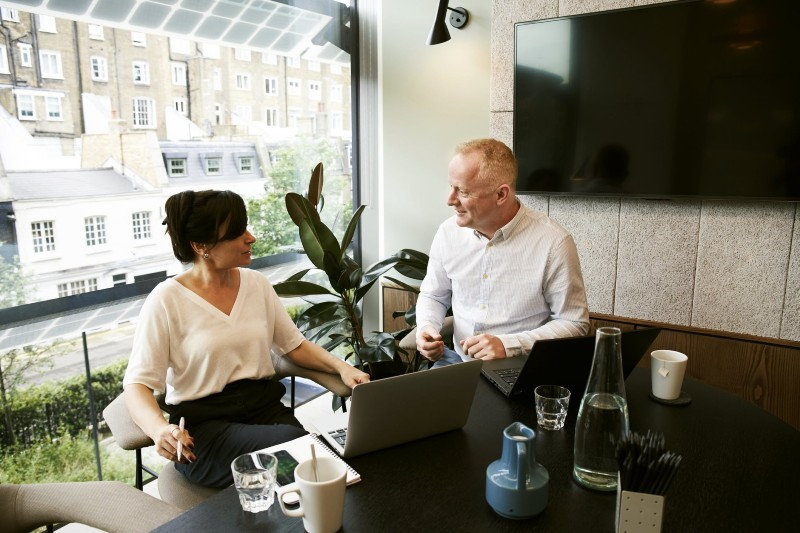 It's important to note, however, that no business energy supplier uses dual fuel tariffs. Instead, rates need to be negotiated for each fuel individually.
As one of the "Big 6" energy suppliers, EDF offers great scalability. And because they're majority-owned by the French government, you know that they're not going anywhere. But are they a good fit for your business' energy needs? Let's take a closer look…
EDF Business Electricity Tariffs and EDF Business Gas Tariffs
In an uncertain economic climate, your business' needs may change year-on-year. As such, you need a supplier with a flexible range of tariffs to suit your changing needs. EDF has 3 different kinds of energy tariffs that you can see here. Both energy and gas tariffs are classified accordingly. Rates vary depending on the size of your business, your peak load hours, and where in the country you are.
Please note that EDF Business does not offer gas contracts with enterprise-level companies.
Available tariffs include:
Fixed for business tariffs
Fixed for business is EDF's range of
The benefits for EDF's Fixed for business tariffs are as follows:
Fixed energy prices with contracts available between one and four years
Usually cheaper rates than their variable tariff
Automatic renewal onto Easy Fix at the end of the fixed term
Flexible payments including, Direct Debit, cash or cheque
7% discount when paying by monthly Direct Debit
100% zero-carbon nuclear electricity
Average rates for SMEs are as follows:
| Tariff | Electricity Daily Standing Charge | Electricity Unit Cost | Gas Daily Standing Charge | Gas Unit Cost |
| --- | --- | --- | --- | --- |
| Fixed for Business 1 year fixed | 25p | 12.47 p/kWh | 25p | 3.324 p/kWh |
| Fixed for Business 2 year fixed | 25p | 13.05 p/kWh | 25p | 3.321 p/kWh |
| Fixed for Business 3 year fixed | 25p | 13.45 p/kWh | 25p | 3.327 p/kWh |
Freedom for business tariffs
Freedom for business rates are EDF's variable business rates. This is a good tariff for business owners who want to be able to keep their options open. Although rates are slightly higher, they are certainly more favourable than businesses may currently get on a "deemed contract". While rates may go up or down based on the wholesale cost of energy, EDF will let you know within 30 days of any changes to your rates.
Benefits of these tariffs include:
No exit fees
No notice period
Ability to switch to another product at any time
Pay by Direct Debit or cash/cheque,
7% discount when paying by monthly Direct Debit
100% zero carbon nuclear electricity
Average rates are as follows:
| Tariff | Electricity Daily Standing Charge | Electricity Unit Cost | Gas Daily Standing Charge | Gas Unit Cost |
| --- | --- | --- | --- | --- |
| Freedom for Business | 25p | 19.53 p/kWh | 25p | 4.193 p/kWh |
American Express fixed for business
This third tariff has all the benefits of the Fixed for business tariff, with the added advantage of earning one American Express Membership Rewards point for every £1 you spend on energy.
This is advantageous for businesses that use an American Express business credit card for sundry purchases.
How must you communicate your business meter readings?
In order to ensure that your billing is accurate (and your cash flow remains harmonious), ut's essential to report your energy use to EDF accurately. Estimated billing (in business use as in domestic use) can lead to billing inaccuracies, and while your account will be credited in due course, this can impinge on your business liquidity.
It's best to report your meter readings every month on the same day. Between the 17th and 25th of every month are generally regarded as the best days to report meter readings. This can be done over the phone, or through EDF's "My Account" app.
Click here to find out more.
EDF Business energy fuel mix
Although EDF's domestic tariffs have a more varied fuel mix, 100% of EDF Business electricity comes from nuclear power. This means that EDF Business Tariffs are carbon neutral. However, nuclear power is not technically renewable in the same way that solar, wind or hydroelectricity are.
EDF Business customer reviews
Although there is no Trustpilot review page specifically for EDF's business tariffs, we can gauge EDF Energy's customer sentiment across domestic and business customers by looking at the brand's Trustpilot pages. Across the two pages, which you can see here and here, there are 12,076 reviews at the time of writing. Of which:
8,587 are "Excellent"
602 are "Great"
191 are "Average"
265 are "Poor"
2,431 are "Bad"
Positive reviews focused on good customer service, helpful staff, flexibility, and ease of managing accounts.


COVID-19

More than ever, our team of experts remain on deck to help you make savings on your energy. We understand how deeply the lives of many are affected by these trying times and we want to support you the best we can. More on your energy supply during COVID-19 in our article.


Negative reviews focused on billing inaccuracies and inconsistencies, communications problems with staff, and (in one case) damage to property during smart meter installation.
Switching your business energy to EDF Business
If you think EDF Business tariffs are the best fit for your enterprise, we can make switching quick and easy. Not only can we help you to find the right EDF Business plan for your company's needs, we can also manage your switch from end-to-end. So you can enjoy cheaper energy, hassle-free. Leaving you with the time and energy that you need to do what you do best… managing your business!
Want to know more?
Get in touch with us today on 0330 054 0017. We're available from 9am to 7pm.
Read more about business energy suppliers and tariffs:
FAQ
Do they offer smart meters?
Yes. EDF Business tariffs include smart meters and energy monitors to ensure that your bills are accurate without the need to take multiple meter readings. You can also monitor the effects of energy saving measures your business implements in real time.
Do EDF Business have dual duel tariffs?
No. Dual duel tariffs only apply for domestic energy consumers. As a business customer, you'll have to negotiate separate rates for both fuels. But remember, as both business and domestic energy consumer you are not obliged to use the same supplier for both fuels.
How do I move business premises with EDF Business?
EDF Business has a page dedicated to helping businesses move to a new premises that you can check out here. You may be able to take the same contract and tariff with you to your new location. You can also add locations if you move to another branch.
Be sure to take note of your ​final meter reading once you've moved out, or once your lease agreement ends.
You may need to verify the change of premises with a valid Land Registration, tenancy agreement, management agreement or solicitors letter.
What other products and services does EDF Business provide?
EDF Business provides bespoke solutions for SMEs and enterprise-level businesses, including a tariff that generates reward points for American Express users. To see the full range of EDF's business products and services, take a look at this PDF.