Energy efficient heating: what the best system for my home?
Switch energy suppliers in minutes to save up to £400 a year!
Our experts can move you to the best energy plan for free.
Available Monday to Friday from 9am until 7pm
Whether it's time to replace an out of date and energy guzzling system or you are working on a new build project, knowing the most energy efficient system can help you to cut your bills and reduce your consumption.
Last update: January 2021
COVID-19
More than ever, our team of experts remain on deck to help you make savings on your energy. We understand how deeply the lives of many are affected by these trying times and we want to support you the best we can. More on your energy supply during COVID-19 in our article.
Nobody wants to pay any more to heat their home than absolutely necessary. Likewise, nobody wants to use more energy than they have to for environmental reasons. All of which leads us to ask ourselves which is the most energy efficient heating system for our homes?
Below we will look in more detail at the most efficient heating systems for domestic use, taking a closer look at what energy efficiency is and the pros and cons of each system.
What is the most energy efficient heating system?
In the UK, around 86% of homes have a mains gas supply, running a gas boiler central heating system to heat radiators. This is because gas has consistently been the cheapest and most convenient way to heat our homes. It replaced coal as a greener and more efficient alternative. Now new technology has given us even more efficient ways to heat our home. But does this mean that gas is on the way out
These new alternatives include renewable energy power sources that can be used at a domestic level (rather than commercial power generation level) such as:
Biomass fuels
Solar water heating
Heat exchange pumps
Domestic hydro-electricity generation
Wind turbines
If you have the means to install one of the above systems, by placing a wind turbine or solar system in the suitable place, or building a hydro generator on a water source, then you can produce efficient energy for your home with little to no impact. You can even sell energy back to the grid if you produce too much.
Of course, not everyone has the means or opportunity to generate their own power. If you live in a flat or apartment, terraced house, or even a conservation area, it might not be possible to use any of the above. However, there are other steps you can take, which include:
Installing underfloor heating
Investing in insulation
Using a smart thermostat
Taking action like this can help you to use energy in a more efficient way for a minimal outlay. This will help you to bring down your bills and reduce your carbon footprint.
What is the cheapest way to heat a house?
For most people in the UK, gas is still the cheapest option for heating your home – if you are connected to the mains. Gas is cheaper than electricity and the price of oil, while currently low, can fluctuate wildly according to global conditions.
Of course, it's not simply a matter of having a gas connection, it's also about how you use your central heating. You need to think about the condition of your boiler. If it's old then it may not be working in an efficient way. If you do not have a combi boiler, which heats water as and when it is needed, then you are also losing energy trying to keep your hot water warm in the tank.
You also need to consider which rooms you heat and when, and whether some rooms can be kept at different temperatures. Investing in a smart thermostat will give you greater control of your heating and allow you to create zones in your home which you can heat as and when you need them.
What is the most expensive form of heating?
As we have seen above, gas is the cheapest way of heating your home unless you have a renewable energy system built into your property. Even then, gas compares favourably to fuels such as biomass (although biomass fuel is more sustainable and better for the environment). But what is the most expensive way to heat your home? The table below provides some answers.
| Fuel source | Price per kWh | Annual cost |
| --- | --- | --- |
| Electricity | 9.9p | £2053 |
| Mains gas | 6p | £609 |
| LPG | 7.6p | £1125 |
| Heating oil | 6p | £538 |
| Biomass | 6p | £1100 |
As you can see, gas and oil are the two cheapest forms of heating. However, as mentioned above, the price of oil is currently low but can fluctuate wildly. The annual costs are based on an average home using 13,500 kHh.
Using electricity to heat your home is by far the most expensive option.
What is the most economical way to use central heating?
However you choose to heat your home, the key to efficiency is using your central heating correctly. Here are some things you need to remember.
Adjust settings
Get a smart thermostat installed
Insulate your home thoroughly
Eliminate draughts
Install thermostatic radiator valves
Bleed your radiators
That last point is very important as you may be paying too much for your energy at source. Look around for cheaper tariffs and change to a more suitable one to reduce your bills.
Which type of heater is cheapest to run?
Mains gas radiators on a central heating system are currently the cheapest way to heat your home. That is unless you have made the switch to a renewable domestic energy system. Three of the most common include:
Biomass heating
Solar water heating
Heat exchange pump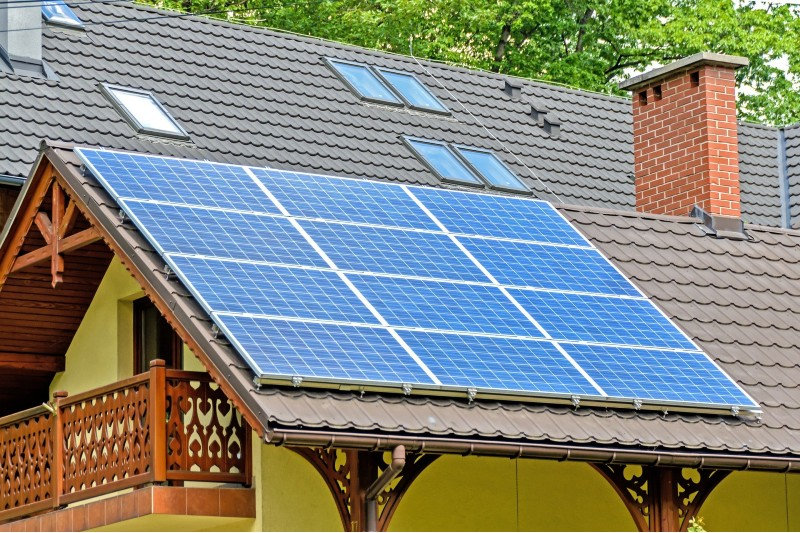 These are systems that can be put in place to heat your home without relying on any mains connection. Once up and running they can provide very cheap energy and hot water to your home, with limited maintenance needed. Importantly, they are very sustainable and are much less harmful to the environment than fossil fuels such as gas and oil.
The advantages and disadvantages of all of the above are that while they are energy efficient and sustainable, they do often involve a significant outlay and initial investment to convert your home. Fitting your home to run on solar power will cost between £4000 to £6000. To convert your home to biomass will cost between £10000 and £20000. As you can see, it may take many years before your investment starts paying for itself.
It's also true that not every home is suitable for a solar system or biomass energy. If you live in a property that is not able to be converted and you are relying on the mains energy for heating, then don't worry as there are still things you can do, such as installing a smart thermostat.
Should I use a smart thermostat?
If changing your home over to a sustainable energy supply then there are still a few technological changes you can make to get more energy efficient heating. The main change you can make is to get a smart thermostat.
This is a thermostat that's connected to the internet and allows you greater control over your heating. You are able to use your smartphone or tablet to adjust temperature and set patterns for your home heating.
Some smart thermostats can even learn your heating patterns and make adjustments so that you are using energy in a more efficient way. They may also be able to remind you when it is time for maintenance, which will keep your system running at its optimal state. You can also find out more detailed data about your consumption, especially when used in conjunction with a smart meter.
Can switching tariffs help me be more efficient?
Changing the tariff you are on or even your supplier can help you to be efficient in a number of ways. First, by paying less for your energy you will be making savings you can then invest in insulation and other ways of improving your home's energy efficiency.
You can also switch to suppliers that use renewable energy or tariffs such as Economy 7 which reward you for using energy at certain times of day. If you would like more information about switching or want to get the process started, then we can help.
Want to know more on this topic? Check out these guides:
FAQ
What is the most energy efficient heating system?
The most energy efficient domestic energy systems are renewable systems such as solar or biomass. These use fuel from renewable and sustainable sources, producing clean energy that can heat your home in an efficient and cost effective way.
However, not all homes are suitable for this yet, which makes domestic mains gas the most energy efficient and affordable option for most people in the UK.
What is the cheapest way to heat a house?
If you already have a system in place, then solar or hydro power for domestic use is the cheapest form of energy as you only pay for the system maintenance. However, to install a system from scratch could cost thousands.
If you are on the mains, then gas is the cheapest way to heat your home, costing just 2.4p per kWh compared to 9p for electricity. However, it takes more gas to power your home so the costs are levelled out over the year.
What is the most expensive form of heating?
Using electricity to heat your home is most expensive, with it costing around £2000 a year for the average UK home using around 13500 kWh annually. However, if you factor in the cost of setting up a domestic energy system such as solar or biomass, then this becomes very expensive too. However, once set up you can start making savings on your investment. It is also a more sustainable way to heat your home.
Should I use a smart thermostat?
There are various forms of technology out there that can make home heating more efficient. One of these is to get a smart meter installed. This is a thermostat that is connected to the internet. It allows you greater control over your heating by being able to use your smartphone or tablet to adjust temperature and set patterns for your home heating. It can also give you reminders when maintenance is necessary.