Geothermal heat pumps: are they worth it in 2020?
Switch energy suppliers in minutes to save up to £400 a year!
Our experts can move you to the best energy plan for free.
Available Monday to Friday from 9am until 7pm
Geothermal heat pumps have become very popular in the past few years for generating energy at home. Incredibly efficient and environmentally friendly, they're often installed by homeowners looking to reduce their carbon footprint and make their property as sustainable as possible.
Last update: November 2020
COVID-19
The coronavirus pandemic is likely to affect all of our personal finances. However, the UK lockdown will not affect the services we provide. Our team of experts are working hard to ensure that you make savings on your energy bill by switching suppliers. Read more about your energy supply during COVID-19 here.
Geothermal pumps use a renewable heat source and so don't rely on fossil fuels. This means that installing a geothermal heat pump will help to make your home greener while reducing your monthly energy bills. Geothermal heat pumps are also very efficient. This allows you to heat or cool your home using minimal energy while enjoying great results.
The numerous benefits of this innovative heating solution have made geothermal heat pumps a popular choice both for new build homes and eco-friendly renovations. So are geothermal heat pumps really as good as they sound? We decided to find out.
How do geothermal heat pumps work?
Heat pumps are machines that use a refrigeration cycle (like the one in your fridge) to transfer heat. They essentially make it hot on one side and cold on the other. During the winter months, you want the hot side to be in your house, whereas in the summer you want the opposite, with the cool air in your property and the warm air outdoors.
Geothermal heat pumps are coupled with the earth rather than the air outside your property. This makes them more efficient than air source pumps as the temperature of the earth remains relatively stable throughout the year. In most cases, you'll find temperatures of between 8˚C and 10˚C when you go 6-10 metres below ground. This means that geothermal heat pumps don't have to work as hard to either heat or cool the air that's pumped into your home.
Most geothermal heat pumps use water instead of air to transfer the hot or cold air into your home. Water is around 200 times more efficient than air at transferring heat, making geothermal heat pumps even more effective.
How well does geothermal heating work?
In general, geothermal heating works very well. According to the International Ground Source Heat Pump Association (IGSHPA) homeowners could save between 25% and 50% on the cost of heating and cooling their home. For some households, this saving could be as high as 72%.
How well does geothermal heating work?
During the winter months the water in the geothermal heat pump system travels deep underground to collect the warmth stored under the Earth's surface. It then transfers this heat to your home, while removing cold air from the property. As the temperature 6-10 metres below ground doesn't fluctuate like the temperature above ground, geothermal heat pumps are able to access stored heat even in the worst of winter weather.
How well does geothermal cooling work?
In the UK, cooling systems are in less demand than heating systems. However, if you have a geothermal heat pump installed, you can take advantage of the system's efficiency to reduce the temperature in your home on hot summer days.
In order to cool your home, geothermal heat pumps simply reverse the way they work. So instead of bringing warmth into your house from below the ground, they take the heat from your home and transfer it into the relatively cool earth. They then transfer cooled air into your property.
What is the difference between a heat pump and geothermal?
The main difference between a standard heat pump and a geothermal heat pump is that geothermal pumps are coupled with the ground while standard pumps are coupled with the air. Standard pumps have to heat or cool the air outside your property in order to adjust the temperature inside. As the outside temperature can vary widely throughout the year, standard pumps often have to work very hard in order to achieve the correct interior temperature.
The temperature inside the ground on the other hand remains relatively stable throughout the year. This means that geothermal heat pumps don't have to work so hard to get the air to the right temperature before pumping it into your home, saving you money in the process.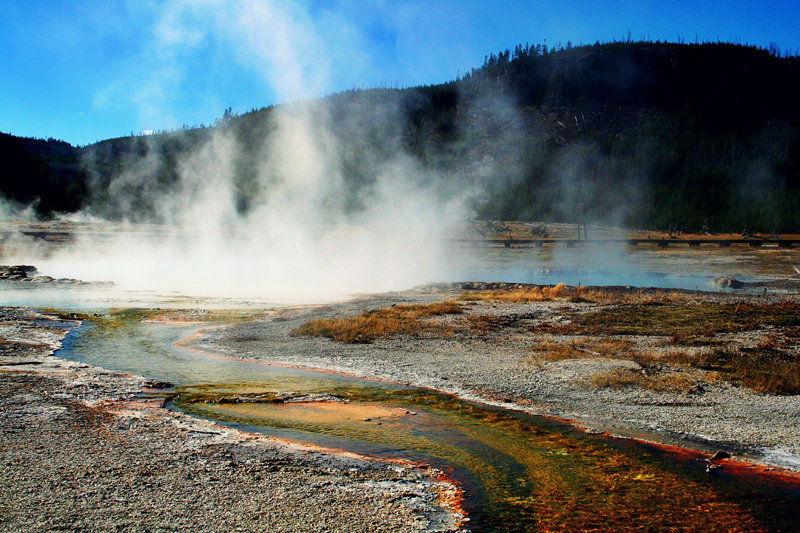 Pros and cons of geothermal heat pumps
Like all heating systems, geothermal heat pumps have their own set of pros and cons. Understanding these advantages and disadvantages will help you to decide if a geothermal heat pump is right for your home.
The pros of a geothermal heat pump:

It will save you a significant amount on the cost of heating and cooling your home
Geothermal heat pumps are environmentally friendly
A renewable energy source
Geothermal heat pumps work well in almost all climates

The cons of a geothermal heat pump:

Substantial upfront installation costs
Could alter the landscape around your property
Open-loop systems may contaminate groundwater
Geothermal heat pumps aren't suitable for all locations
How much money can you save by using geothermal energy?
For many homeowners, the main incentive of a geothermal heat pump is the money it will save on the cost of heating and cooling a property. Because of the way that geothermal heat pumps work, they use only a fraction of the energy of traditional heating systems, allowing you to heat and cool your home without breaking the bank.
According to an American study, traditional boilers produce less than 96¢ of heat for each dollar spent burning expensive, polluting fossil fuel. A geothermal heat pump on the other hand returns up to five dollars of heat for each dollar spent on electricity. This makes a geothermal heat pump a much more affordable and environmentally friendly way to heat your home.
How many years would it take for the geothermal system to pay for itself?
As geothermal heat pumps are so efficient and cheap to run, you may well be wondering why they aren't already installed in every home across the country. Well, the main thing that puts many homeowners off is money. These innovative heating systems are very expensive to buy and install. Top of the range geothermal heat pumps can set you back £20,000 – £35,000. Even more basic units can easily cost a whopping £10,000.
However, as geothermal heat pumps are incredibly efficient – the best systems can achieve up to 600% efficiency – they will significantly reduce your energy bill. If you currently heat your home using electricity, a geothermal heat pump could save you between £790 – £1425 per year on your heating bill.
This means that a geothermal heat pump could pay for itself in as little as just seven years. As most geothermal heat pumps are designed to last 20-30 years, the system could pay for itself many times over.
What are the best brands for geothermal heat pumps?
As the popularity of geothermal heat pumps grows, so too does the number of brands manufacturing the systems. Investing in a geothermal heat pump from a reliable, innovative manufacturer will ensure you get good value for money and a system you can rely on.
Currently, some of the most trusted names in geothermal heat pumps are:
Stiebel Eltron
Vaillant
IVT
Clausius
FAQs
Are geothermal heat pumps worth the money?
If you're considering investing in a geothermal heat pump, you may well be trying to work out whether or not it's worth the money. There are a number of things to take into consideration when calculating the value of a geothermal heat pump. These include:
How long you plan to stay in your current property
How much value the system will add to your home
Your impact on the environment
Your current heating bill
If you plan to stay in your home for a number of years, or if you're confident the ground source heat pump will add a significant amount to the value of your property, it may well be worth investing in a system. This is also true if your current heating bills are very high or if you're happy to invest in order to reduce your carbon footprint. However, if you plan to move in the not-too-distant future or already have an energy efficient property, the investment may not be worthwhile.
How much does it cost to replace a geothermal heat pump?
The exact cost of a replacement geothermal heat pump will depend on your existing system and the type of pump you're looking for. If you opt for a top of the range system, you could easily spend over £30,000.
How much land do I need for geothermal?
When deciding whether or not a geothermal heat pump is right for you, it's important to take into account the size of your garden or the land available. If you opt for a horizontal system, you'll need a minimum of 700 square metres of land. If you go for a vertical system, the amount of land you'll need will vary depending on how many boreholes are required.
Is a geothermal heat pump dangerous?
Geothermal heat pumps are not dangerous. They don't heat air or water to dangerous temperatures and are designed to be safe for domestic use.