Electrical safety certificate: what are your obligations as a landlord?
Powering up your home has never been so easy
Let us set up your energy supply with the best supplier in 10 minutes.
Free service - Available Monday to Friday from 9am until 7pm
Powering up your home has never been so easy
Let us set up your energy supply with the best supplier in 10 minutes.
Free service - Available Monday to Friday from 9am until 7pm
As any veteran landlord will tell you… there's really no such thing as "passive income"! A landlord's duties are extensive. Their obligation to keep investment properties safe and habitable is extensive and multifaceted. So, speaking along those lines, you might be asking yourself: What is an Electrical Safety Certificate? How much does it cost? And, lastly, How long does it last? And what are your legal obligations as a landlord? Here, we'll attempt to answer all of your questions about electrical safety and more…
Last updated: March 2021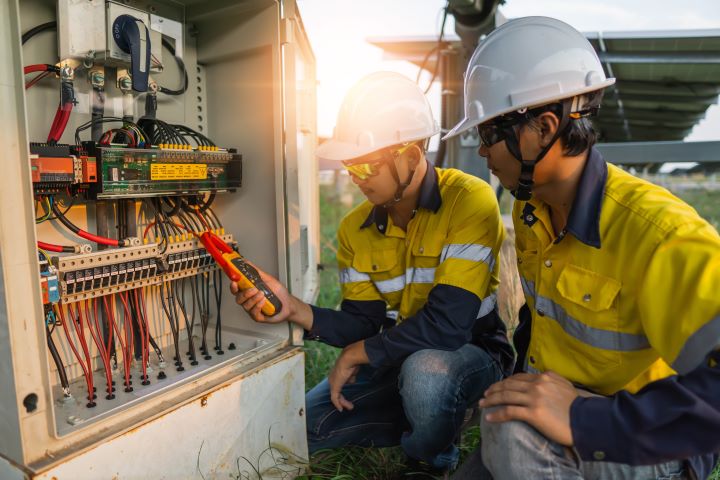 It encompasses everything from making sure that the property meets minimum energy efficiency standards (a minimum EPC rating of "E" or above) , to keeping the property safe and warm, to carrying out repairs in a timely manner. Indeed, those who are new to property investment may find keeping up with all their obligations as a landlord a little daunting. Here, we'll explain the importance of an Electrical Safety Certificate.
Electrical appliances and installations can become a safety hazard. Improper installation or simple wear and tear can create a dangerous environment for tenants. An Electrical Safety Certificate demonstrates your commitment to compliance and shows tenants that you have a proactive approach to their safety. This builds value in your business brand and you as a landlord, helping tenants feel safe and comfortable in your property. This typically means that they're likely to stay longer and treat the property with the respect that it deserves.
COVID-19
More than ever, our team of experts remain on deck to help you make savings on your energy. We understand how deeply the lives of many are affected by these trying times and we want to support you the best we can. More on your energy supply during COVID-19 in our article.
What is an Electrical Safety Certificate?
An Electrical Safety Certificate is a document that demonstrates to tenants and governing bodies that the electrical circuits and appliances in your property are in good working order and, perhaps more importantly, safe to use. While it has not been a legal requirement for landlords in England, Wales and Northern Ireland until recently, it has become a mandatory requirement for all landlords in England and Scotland in 2020. Even if an electrical safety certificate is not a legal requirement in your area, it is highly recommended for a number of reasons.
Firstly, laws can change. And if an Electrical Safety Certificate becomes a legal requirement in your area, the last thing you want is to be on the wrong side of long waiting lists (or elevated prices) as other landlords scramble to get certification.
Furthermore, even if it's not a legal requirement in your area, an Electrical Safety Certificate represents a modest investment in your reputation, demonstrating that tenants can trust you and you are proactive in keeping them comfortable and safe.
Electrical safety inspection: How does it work?
An Electrical Safety Certificate is issued after an electrical safety inspection has been carried out by a registered electrician.
Whether an Electrical Safety Certificate is a legal requirement in your area or not, it is recommended that electrical systems be thoroughly checked every 5-10 years or every time the occupancy changes.
During the inspection, the electrician will:
Determine the extent (and safety implications) of any damage or wear and tear to electrical infrastructure.
Reveal any poor electrical installation* or repair work.
Ensure that switches and sockets are serviceable and safe.
Ensure the suitability of the switchgear and controlgear for the rigours of 21st century use.
Make sure that electrical circuits and equipment (such as extension cords and socket adaptors) are not overloaded.
Make sure earthing and bonding have been properly carried out.
Check that electrical equipment can be appropriately serviced.
Identify any potential safety risks.
Ensures adequate identifications and notices are put in place.
*An electrical installation refers to any kind of electrical apparatus installed in your property. It usually refers to wiring, lighting, plug sockets and permanent fixtures like heaters.
Who can issue an Electrical Safety Certificate?
Many electricians offer electrical safety inspection and certification services. However, local councils and housing associations and, as well as estate and letting agents, will only accept an Electrical Safety Certificate signed by a fully qualified engineer, registered to an appropriate body. Domestic installers cannot issue Electrical Safety Certificates.
As such, landlords need to be discerning in who they choose to carry out this important work. Carry out the following when choosing an electrician:
Check that the electrician is properly accredited and registered with a regulatory body such as NICEIC, ELECSA, ECA (https://www.eca.co.uk/) or NAPIT.
Make sure that they are fully insured with a registered body. Such an insurance can only be obtained by registered electricians.
Do landlords have to have an Electrical Safety Certificate?
As of July 2020, all landlords in England and Scortland are legally required to have an Electrical Safety Certificate. Nonetheless, even if this is not a legal requirement in your area, not having one can make you vulnerable.
What happens if I don't have an Electrical Safety Certificate?
If you do not have an Electrical Safety Certificate in England and Scotland after July 2020 before a new tenancy begins, the consequences could be serious. You may be issued a fine of up to £30,000 if you either do not have a safety certificate or have not carried out work recommended by an approved electrician to obtain one. Local authorities are responsible for enforcing these new rules, under the Housing Act 2004.
Local authorities can also arrange remedial action if work recommended by an electrician to obtain a safety certificate has not been carried out. This means that work will need to be carried out within 28 days. If it is an urgent notice (i.e. likely to impact a tenant's safety) work may need to be carried out within a shorter time frame.
What's more, should damage of an electrical nature be incurred to the property (e.g. if an electrical fire should break out), your insurance may be invalidated if you do not have an EICR. Worse still, if a tenant should be injured or killed in the event of electrocution or electrical fire, you could be subject to criminal charges.
How much is an Electrical Safety Certificate in the UK?
There is no set cost established for an Electrical Safety Certificate in the UK. It will usually depend on the size of the property, the area and the electrician carrying out the inspection. Not to mention any work carried out to get the property's electricals to a satisfactory standard.
However, in most cases, the cost of acquiring an Electrical Safety Certificate is between £80-£150.
What are the different types of Electrical Safety Certification?
Broadly speaking, there are 3 types of Electrical Safety Certification.
EICR: An EICR or Electrical Installation Condition Report is the safety certificate and report that is supplied by a registered electrician following an inspection of your property. This is the kind of certificate that is most commonly referred to as an Electrical Safety certificate.
EICs: Electrical Installation Certificates or EICs are issued to declare that a new installation is safe and fit for purpose.
MEIWC: Minor Electrical Installation Works Certificates are usually issued where work has been modified, altered or added to. However, a new circuit has not been added.
What are the different types of electrical installation?
There are many different kinds of electrical installations around the home. An electrical installation refers to anything that is fed through your electricity meter. This may include everything from lights and electrical heating apparatus to the electrical sockets in your walls.
If an existing installation has been completely rewired, it is classed as a brand new installation and needs to be certified accordingly.
How long is an EICR valid for?
In line with new guidelines for England and Scotland, an EICR is valid for 5 years. After this time it will need to be updated. However, you are not required to get a new EICR certificate if you get a new tenant in your property.
What happens if my property fails its EICR
Following an inspection, a registered electrician may deem that EICR test is classed as "unsatisfactory". The electrician will highlight required remedial work. These will have to be carried out in the following 28 days (less if urgent / safety related).
The EICR report will use the following codes to classify work required:
C1 – 'Danger is present'. Immediate action is required as risk of injury is likely.
C2 – There is potential danger present and urgent remedial action is needed.
C3 – Improvement to an electrical system is recommended. Landlords can be issued a C3 and still pass the EICR test.
FI – Further investigation is required
Only when all required remedial work has been completed, will your registered electrician provide you with a "satisfactory" EICR Certificate.
Landlord top tips for electrical safety
As in all things, when it comes to your property's electrical infrastructure, an ounce of prevention is worth a pound of cure! You'll find that you stand a much greater chance of passing your EICR inspection if you're proactive about ensuring your property's electrical safety.
Some top tips that you can get to work on right now include:
Ensure that the fuse box has a residual current device (RCD) fitted. This can not only provide protection against electrical fires, it can also reduce the risk of injurious or even fatal electric shocks.
Ensure that electrical installations are tested regularly, even if it is not mandatory in your area.
Only use registered electricians, even for minor jobs.
Visually inspect the property yourself as regularly as possible. Keep an eye out for things like scorched or broken plugs or frayed wire. A fishy smell coming from a socket could indicate electrical fire damage.
Unsure that tenants have access to the main consumer unit, fuse box and isolator switch, and know where to find them.
Make sure tenants know how to use any appliances you provide safely.
Make sure second hand items like electric ovens and white goods are thoroughly prior to installation.
Be aware that wiring and lighting regulations change every once in a while. While you are not legally required to use the very latest systems, it's good practice to keep them as up to date as your budget will allow.
Want to give your investment property the best rates? We're here to help!
Investing in electrical infrastructure is not an area in which landlords can afford to cut corners. And neither is your choice of supplier. If you want to get the best deal for your tenants and ensure that your property gets the best energy rates, choosing the right supplier and tariff is essential.
That's where we come in!
We can help you to find the perfect energy supplier for your needs, including suppliers that use prepayment meters if that's your preference as a landlord.
What's more, we can manage your switch from end-to-end so you can focus on what really matters… running your business!
Sound good?
Want to know more on this topic? Check out these guides: