Moving into a new build: what you need to know
Needing to switch up a few things in your life?
By switching energy suppliers you can save up to £400.
All you have to do is give us a call. So what are you waiting for?
Monday to Friday – 8.30 am to 5.30 pm
Needing to switch up a few things in your life?
By switching energy suppliers you can save up to £400.
All you have to do is give us a call. So what are you waiting for?
Monday to Friday – 8.30 am to 5.30 pm
Whether you are fulfilling a lifelong dream and moving house or you are moving into a new development, there are always energy considerations to keep in mind. When moving into a new build, remember that no one has lived there before, so there might not be any existing gas and electricity connections. Let us help you figure out, firstly, how to set up gas and electricity in your new home, and, secondly, how to manage your energy plan ones you have moved in.
Last update: January 2022
What should I look out for when moving into a new build?
One of the great things about moving into a new build is that everything is already done. So, there won't be any renovation to do, no new kitchen to install, and all the plumbing and electrics will be sorted (on site at least). Ideally there will be no cleaning to do and you won't spend the first few days finding all the little flaws and idiosyncrasies that come with an older property.
That means, when you're moving into a new build, there are lots of things you don't need to worry about that you do with an older property. All of which makes it a little less stressful and explains why so many people prefer to move into new build homes. With that being said, no matter where you move, you will find yourself with a deemed energy contract. These are usually more expensive than an energy plan that would be best suited for your needs. But, not to worry, thats where we come in! Give our experts a call at the number above and we will be able to switch you out of a deemed contract and into a new, cheaper contract in only 20 minutes!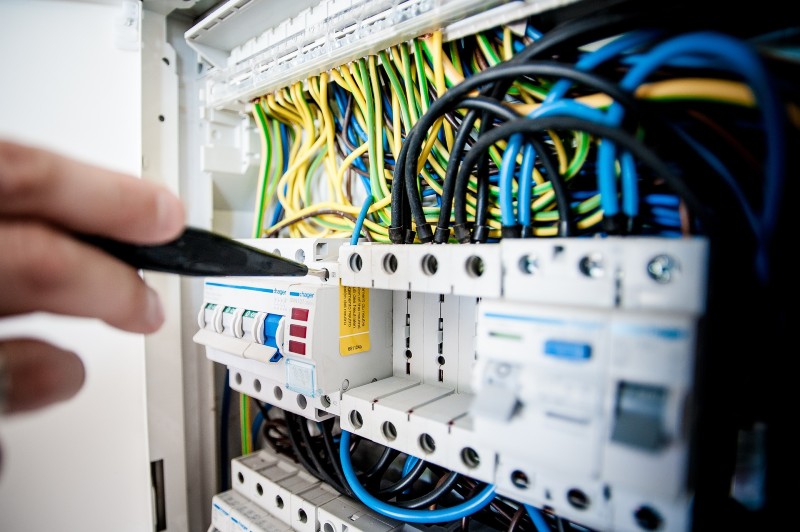 That's not to say that there still isn't plenty to do. You still need to go through the checklist at your old property, informing suppliers that you are moving out and taking meter readings and the like.
Plus you need to:

Pack up your belongings ready for the move
Arrange a removal company to move your things
Pick up the keys from your estate agent
Inform the relative authorities about your change of address
Move in and unpack
There are lots of little loose ends to tie up at your old property, all of which can be time consuming. But when you're moving into a new build it should make the transition a little bit easier.
However, there are still some things you should do to iron out any kinks or issues that might happen with a new build. There is important information to know and you should also make sure you are getting what you are paying for.
There is one specific area where a new build property can throw in a curve ball – and that's with your energy and utilities. Older properties will have already been connected to gas, water and electricity, but there is no guarantee that this will be the case for a new build.
Below we will explain how to set up gas and electricity in a new home if it's not already set up for you. But first, some general information about what you may need to consider when moving into a new property.
On the day when they hand over the property to you
Arrange a handover day at the property so that the builder or vendor can show you everything you need to know. This could be things like the location of the meter, how to work the central heating, the fire alarms or where the stopcpock is. Without a previous owner to show you around, this is important information you require before you move in.
Make sure you test all the appliances. Even though they are new there still might be issues with installation and you need to get all of this sorted before you move in. Check as much as you can. Flush toilets, run taps, check sockets – little things like this can get missed during the build and checking process. Remember you are paying for a new property so things should be brand new and in top working order.
This is the last opportunity to create a snag list, so make a note of any issues and take photos where possible. Make sure that your handover meeting is long enough for you to give everything a thorough check. 30 minutes might not be enough to give the property a thorough check.
Before you move in
If you are not sure that your own survey at the handover has gone well or there are still issues outside of your realm of knowledge, get a snagging check carried out by a professional. Remember that property is the most expensive thing you will ever buy so you need to make sure you are getting value for money.
You also need to measure up for furniture and start making design plans for how your new home is going to look. Doing this now can save valuable time on moving day. If you can drop furniture straight into place it saves time and eliminates those nasty moments when things don't fit where you planned.
You should also take this time to set up any facilities you require, such as internet and satellite television. You don't want to have to deal with this in the aftermath of a move but may require these services from day one. Now is the time to do it.
You should also check that your new home is registered for mail delivery with the postal service. If not you may need to have a new postcode and address created for you and added to the register. If you don't have these in place, not only will you not get your mail but you will find it hard to arrange any other services, including insurance.
When you complete all the paperwork
This is an exciting day when the property finally becomes yours. It's good to be excited but you also need to make sure that the paperwork is all in order. That means ensuring the following is done correctly:
A copy of your Buildmark (NHBC) or other new home policy
A copy of your new lease
Details of any charges the building incurs
Manuals for appliances
On moving day itself
Give the property one more going over and make sure that any issues raised earlier have been resolved to your satisfaction. After you move in it will be near impossible to argue that any damage or malfunctioning equipment was not caused by you.
You should once again familiarise yourself with the location of the energy meters and stopcocks in case of emergency. Take accurate readings to ensure that you will not be paying for anyone else's power. This is less of an issue with new builds but it can still happen.
However, having meter issues is not necessarily the worst thing that can happen with your energy supply when you move into a new home. As you will see below.
Moving into a new build: energy considerations
When moving into a new build, remember that no one has lived there before, which means there might not be any existing gas and electricity connections.
Unlike an existing property which will have been hooked up to energy supplies before and have meters in place to provide supply information, a new build might be a completely blank slate. So, when you're moving into a new build you need to make sure you have all the right connections and paperwork taken care of. Otherwise you might spend your first few nights or weeks in your new home without any kind of heat or power.
How to set up your energy supply
If the property already has gas and electric connections, with meters in place (as put in by a developer or contractor), then all you need to do is choose a supplier and tariff, call them up and arrange supply. You will need the meter numbers which will be listed on the side of the casing. However, there are instances where new builds still need a connection sorted before you get to this point.
If you have been project managing the build, or even if you have paid a team of construction workers to do it for you, the site might not have a permanent electricity connection. Temporary ones are often used by construction firms, with the idea that they will be relocated to a suitable meter box later in the process.
You also need to think about your gas connection. Where will the access point be to the mains and where will the gas meter and pipework be connected?
Setting up an electricity connection
National Grid Energy Transmission (NGET) is responsible for all new connections. You will need to get in contact with them to arrange your initial pre-application meeting. You will alsop
be able to discuss the required works, costs and timelines involved at this stage.
Your application will need to be submitted to the Electricity Systems Operator (ESO) who will work with you to facilitate the necessary requirements.Once you have paid the relevant fees your dedicated account manager will get in touch to talk through the details.
To ensure a successful application, you should have done the following:
Provided all the required information in the application
Have the fee ready to pay
Complied with the Grid Code
Understand the mandatory services requirements based on the
size of your connection
About five to 15 days after your application you will be given a quote for connecting your services. Once your payment is cleared they will arrange a site visit and draw up a proposed connection plan, as well as signing a warranty showing you have met the regulations.
The costs of connection depend on:
The type of connection
The size of your connection
Where you need to connect
On average, in the UK it costs around £1619 to make a new electricity connection. But there may be other associated costs such as groundworks or meter boxes to consider.
Setting up a gas connection
In order to have gas fitted to your property, you first need to contact the gas distribution network that services your region. These are also known as distribution network operators, or DNOs.
In order to make your gas connection simpler, make sure you have the following in place before you call the DNO:
Make sure you know who your DNO is. If you are unsure you can find out here
Locate the local gas mains and ascertain how far you will need to travel to establish a connection. The further you are away, the more complicated it is to connect
For new builds, have a site plan handy so the distributor can see where pipes are laid and where the gas main will be installed
Get all the necessary permissions from landowners the work may affect
If you provide them with the above information, they should be able to give you a quote over the phone. If not, they will arrange a site visit. Either way you should receive a quote within six to 12 days. Getting the gas mains connected usually takes between four to six weeks in total, though this does depend on factors such as:
The proximity of the mains supply to your property
The condition of any existing piping
If any third party access is required, such as neighbouring property or public land
How much work is needed in terms of groundworks and other preparations
The average cost of a full domestic gas connection is between £2,500 and £5,000, which is more than electricity. But then gas is cheaper to run than electricity, so it levels out over time.
What happens when I am connected?
Once your new build home is connected and payment has been made for these services, you are free to choose any electricity and gas supplier that you wish. Simply find a tariff that suits your needs, phone the supplier and you can connect to their supply.
The important questions to ask yourself when choosing a new supplier are:
[list-custom type="check"]
How much gas are you and your family likely to use?
Do you prefer to pay ahead of time for your gas or would you rather receive a bill for what you use every month?
Are you looking for cheap rates, good customer service or added extras?
You also have to remember that you can either choose to have your gas and electricity supplied by different providers or you can have them both on a dual fuel tariff. Getting them both together is usually cheaper but prices can vary.
You should also think about what you are going to use gas and electricity for in the home. In general, it is much cheaper to use gas for central heating and hot water. That's because a kWh of gas costs around 4p on average in the UK. A kWh of electricity costs around 12.5p. Of course, most domestic appliances run on electricity, so having both connected is the best way to save.
Our energy experts are here to help
Free service - Available Monday to Friday from 8.30 am until 5.30 pm
Electric and gas safety
Of course, the main consideration with any gas or electricity connection is safety. That's why you need to have connections established by licenced professionals. It is against the law to install your own energy connections or even to move your meter.
There are procedures and certifications in place to ensure that all new gas and electric connections are safe and meet the required standards. Keep reading to find out more.
EPC register
Energy Performance Certificates (EPCs) are needed whenever a property is built, sold or rented. You must provide potential buyers or renters with an EPC by law before they take possession of the property.
An EPC contains:
Information about the property's energy use and typical costs
Recommendations about how to reduce costs and save energy
The EPC gives a rating between A (the most efficient) to G (the least efficient). It is valid for 10 years. If you build a property or move into a new build, then you need to have an EPC for it to be legal. To get one, you need to find an accredited assessor who can visit the property and provide a certificate.
Some buildings do not need an EPC, including:

Standalone buildings with a total floor space of less than 50m2
Holiday accommodation that is rented out for less than four months a year
Residential buildings that are intended for use less than four months a year
Gas safety certificate
As well as an EPC, you need to get a Gas Safety certificate for any property with a gas connection.
If you are installing a heat producing gas appliance in your property, such as a boiler, then it needs to be done by a Gas Safe registered engineer in order to get the Building Regulations Compliance Certificate. This is effectively a way of informing the local authorities that a new appliance has been installed. You should receive your certificate in the post within 28 days.
It is also required that you keep a record of any safety checks that have been carried out and to ensure appliances meet appropriate safety standards. This is especially important if you are ever planning on renting the property.
Electrical safety certificate
According to Part P of the building regulations in the UK, all new appliances and work carried out must meet the required standards. Compliance with Part P is designed to keep you and your family safe.
Part P applies to any new builds or extensions to existing property, including full or partial rewires. The law says: 'Anyone carrying out electrical work in a dwelling must ensure that reasonable provision has been made in the design and installation of the electrical installations in order to protect any persons who might use, maintain or alter the electrical installation of that dwelling from fire and injury, including electric shock.'
The homeowner or landlord must be able to prove that all new electrical work meets Part P specifications. As of April 2013, electrical work in a dwelling is notifiable to a local building control if it involves:
The installation of a new circuit, whether at low voltage (typically 230 V) or extra-low voltage
The replacement of a consumer unit
Any alteration or addition to an existing circuit in a special location, whether at low voltage or extra-low voltage
Would you like to know more information about setting up gas and electricity in a new home? Great! Check out some of our related articles
Available Monday to Friday from 8.30 am until 5.30 pm
FAQ
How do I set up my energy supply?
If you are moving into a new build with no existing gas or electricity connections, then you need to arrange these with the distribution suppliers. This can take up to six weeks so it's worth contacting them as soon as possible. The work needs to be carried out by licenced professionals and you need to provide certain information, such as where your meter boxes and pipework are located.
How much does a connection cost?
Both gas and electricity connections vary in terms of price. However, on average you should expect to pay between £2,500 and £5,000 for a full domestic gas connection. An electricity connection is cheaper, with an average of around £1600. However, these costs are determined by how far your property is from the mains and how much work is involved in connection. There may be associated costs such as additional groundwork.
Can I connect energy supplies myself?
No, all connection work must be carried out by a licenced engineer and should be done in accordance with building regulations in the UK. You will need to get an Energy Performance Certificate (EPC) and a Gas Safety certificate to show that work has been done in accordance with the law.
What happens when I am connected?
Once your property is connected and payment has been made to the relevant bodies you are free to choose any electricity and gas supplier that you wish. Simply find a tariff that suits your requirements, contact the supplier and you can connect to their supply.
Updated on 27 Jan, 2022