Can I Cancel My Electricity Contract?
Looking for the best energy deal on the market? Switch to a new supplier in minutes!
Call us and let our experts switch you to a new energy plan for free.
Available Monday-Friday from 9am-7pm
There are lots of different energy tariffs on the market, and all have slightly different terms and conditions. At one time or another you may ask yourself, "Can I cancel my energy contract?". For that answer, make sure you read this post before you cancel.Otherwise, you could find that the savings you make from saving are offset by costs and charges that you may not have been aware of.
COVID-19
The coronavirus pandemic is likely to affect all of
our personal finances. However, the UK lockdown will not affect the services we provide.
Our team of experts are working hard to ensure that you make savings on your energy bill
by switching suppliers. Read more about your energy supply during COVID-19
here.
When can I cancel my electricity contract?
UK electricity consumers have a huge range of suppliers to choose from. They can choose familiar names like the "Big 6" or they can choose from smaller and newer suppliers that are taking the country by storm like Octopus, Shell Energy and Outfox The Market.  Also,  there are a number of green suppliers like Bulb, So Energy and Pure Planet to choose from.
The energy industry is more competitive than ever. This means that it's quick and easy to choose a new supplier and tariff that can get you a better deal on your electricity. But if you've ever wondered  if  you can cancel your electricity contract its best to check the small print.
Technically, you can cancel your energy contract at any time. It's just that doing so may result consequences that you may had not been previously aware of. It's a good idea to take a look at your energy bill, or log in to your customer portal and see what kind of tariff you're on. If you're on a variable rate tariff (often also called standard or default tariffs), the good news is that you can cancel your electricity contract at any time you like without consequences.
If you are on a fixed rate tariff, however, things are a little more complicated. These are usually fixed for either 12-24 months, and generally offer cheaper energy priced than their variable counterparts. However, you are not expected to leave within this period. That's not to say that you can't cancel your energy contract if you're on a fixed rate tariff, but you may incur an early exit fee.
This is usually somewhere between £25 and £35 per fuel, so you can expect to pay between £50 and £70 if you are on a dual fuel fixed rate tariff. What's more, some energy tariffs (especially 24 month tariffs) may have even more expensive early exit fees of up to £50-£60 per fuel.
When can I change my energy supplier without penalty?
If you're on a fixed rate energy tariff, there are two periods within which you can change energy supplier without incurring any penalties.  The first consists of a period of 14 days after the contract is entered into. Energy consumers can switch suppliers or return to their old tariff within this period without consequences.
Energy regulator Ofgem also stipulates that energy consumers can take advantage of a switching window. This is a period of 49 days before your energy contract's end date. You can switch suppliers within this time period and no early exit fees will be charged.
How do I cancel my energy contract?
If you're a domestic energy user, cancelling your energy contract is simple. All you need to do is switch to a new supplier.
Your new supplier will make contact with your previous supplier and arrange the switch within 17-21 days. You will then receive a final bill from your old supplier. This will include any early exit fees that you incurred by switching.
If you're a business energy user, cancelling your energy contract is slightly more complicated.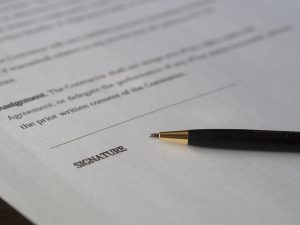 Steps to cancel an electricity contract for your business
Business energy contracts are usually longer and more prescriptive than their domestic counterparts. As such, there are certain steps that need to be taken in order to cancel your business electricity contract:
Your supplier will send you notice around 3 months before the end of your contract.
Check your supplier's switch window. It could be anything from 30 days to 4 months before your contract ends.
Start looking for a better deal online or consult an energy broker.
Choose a tariff you like.
Send your supplier a termination letter. This should be either on letter headed paper or sent through a company email address. It should include your energy account number and be signed by you or someone else recognised by your supplier.
Send your termination letter to your supplier by recorded delivery as soon as possible.
Instruct your new supplier when to take over supply of your business energy.
How to avoid excess charges at the end of your contract
Switching at the right time can help you to avoid excess charges when cancelling your fixed term energy contract. However, the key is choosing the right supplier and tariff in the first place. We can help you to find a great value energy plan with low early exit fees, or even no early exit fees at all.
What's more, we can manage your switch from end-to-end. So you can get a great value energy deal that gives you the freedom you need. Quickly, easily, and 100% hassle-free!
FAQ
Can I get out of a fixed term energy contract?
Yes. Just because it's fixed term doesn't mean it's inescapable. However, it's a good ideas to check the terms and conditions of your tariff. You will likely have to pay an early exit fee to leave your tariff before it expires.
Will I incur an early exit fee if I cancel my electricity contract?
Possibly, but not necessarily. If you're on a variable rate tariff, for instance, these don't usually have exit fees. What's more, you can exit our tariff without incurring fees either:
During your 14 day "cooling off" period after signing up.
During the last 49 days of your energy contract.
Which supplier has the lowest early exit fees?
Most energy suppliers have early exit fees between £25 and £35 per fuel. Some are even more expensive. However, some are significantly lower. For instance, So Energy's early exit fees are just £5 per fuel. What's more, Octopus Energy offers fixed rate energy tariffs with no early exit fees at all. So you can enjoy cheaper energy at fixed rates and still have the freedom to switch at any time. The best of both worlds.
How long do I have after switching to change my mind?
If you switch energy suppliers but later change your mind, Ofgem states that you have a 14 day "cooling off" period. Within this timeframe, you can switch back to your old tariff (or any other of your choosing) without incurring any fees or charges.